Unleash IoT Power and Speed with Winmate 6 LAN Edge Computer
Reliably drive performance, integration, and versatility across IoT platforms
10-04-2023 08:32:00
Unleash IoT Power and Speed with Winmate 6 LAN Edge Computer
Reliably drive performance, integration, and versatility across IoT platforms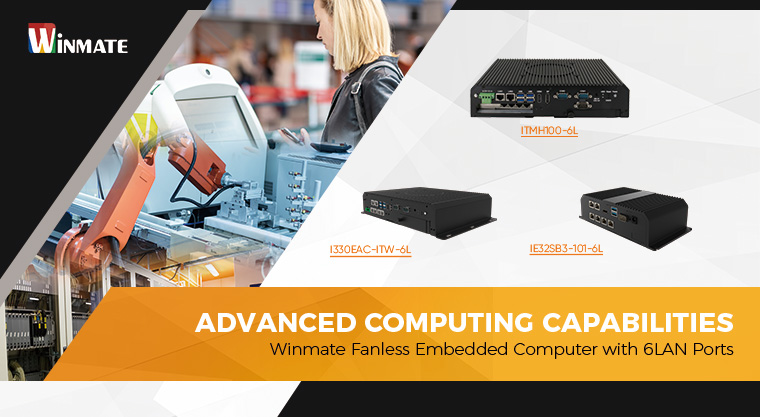 TAIPEI, Mar 23, 2023 – Winmate Inc., a world-leading brand for industrial automation systems and computers, brings the 6 LAN edge computers powered by Intel Elkhart Lake and Intel Tiger Lake processors. Featuring advanced CPU and graphics performance with integrated IoT features and longevity support, the new Edge computer provides rich-industrial IO ports to accelerate system integration development for the next generation of IoT applications.
Cool with fanless aluminum alloy chassis design
The embedded computer's compact design requires less power and generates less heat than a full-sized computer. Moreover, the entire Winmate edge computer series is constructed with a close-design metal housing with anti-vibration, compression, and fanless heat dissipation structure. Winmate learned that the typical cooling fans could draw in dirt and dust from their operating environments, thus potentially causing catastrophic failures and downtime. Winmate fanless series computers silently dissipate temperatures through specially engineered chassis. Making the Winmate PCs stay cool and suitable for many applications such as the IoT (Internet of Things), embedded control, interactive kiosks, digital signs, Human/Machine Interface, and other industrial applications.
Built to last and adaptable
Besides the fanless design to reduce failure potential due to the environment, Winmate's embedded box PCs are designed to provide a long lifecycle. The products are built to be easily upgradeable, ensuring adaptability to changing industrial automation requirements. Various expansion slots enable users to add and upgrade additional hardware components and modules to drive performance, integration, and versatility for the IoT platform. The number and type of expansion slots available on Winmate's edge computer vary depending on the model.
Designed fit for embedded, industrial, and edge computing applications
The compact size of the embedded PCs makes them ideal for space-constrained industrial environments, with little room for full-sized computers. Each Winmate Edge computer comes with mounting solutions for easy and space-saving installation. The ability to mount the embedded computers in various ways opens for greater installation flexibility. At the same time, their small size and efficient design make them ideal for use in harsh environments where reliability is critical.
The newly launched IE32SB3-101-6L with Trusted Platform Module (TPM) enhanced security. By incorporating a TPM into embedded box PCs, Winmate ensures users can rely on a robust and secure platform to protect against cyber threats and maintain data integrity. These features make Winmate's embedded box PCs well-suited for various embedded, industrial, and edge computing applications.
Winmate's embedded mini PCs are designed and manufactured to the highest quality standards and are certified to meet industry safety and regulatory requirements. The Winmate's embedded box PC product line is certified to various industry standards such as CE and FCC, ensuring they comply with safety and regulatory requirements.
Vores erfarne rådgivere er klar til at hjælpe dig godt videre, så tag fat i os. Giv os et kald på telefonen, send en mail eller udfyld vores kontaktformular.
Se et par andre nyheder fra Winmate:
Outdoor Industrial Display Monitors
Revolutionize Workflow with Fanless Rugged Tablet
Vi leverer specialtilpassede løsninger til industrielt brug. Hvis du vil høre mere om muligheder og løsninger inden for industrielle produkter, så tag fat i os. Vi har et tæt samarbejde med førende leverandører, og er klar til at hjælpe dig videre med den rette industrielle løsning.