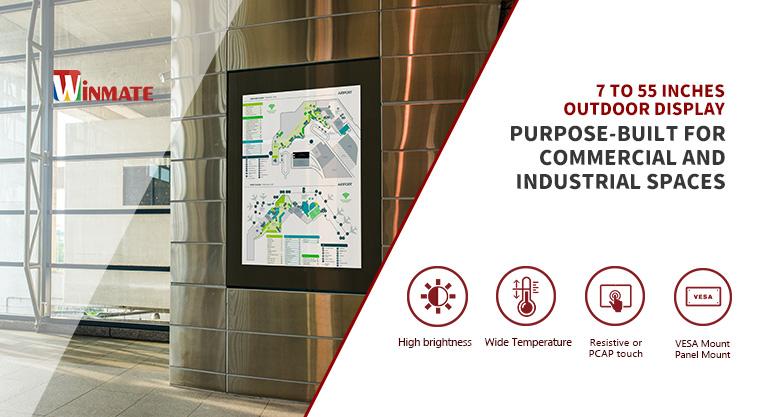 Outdoor Industrial Display Monitors
Bright and durable for diverse environment applications
15-02-2023 14:20:00
Outdoor Industrial Displays Monitors
Bright and durable for diverse environment applications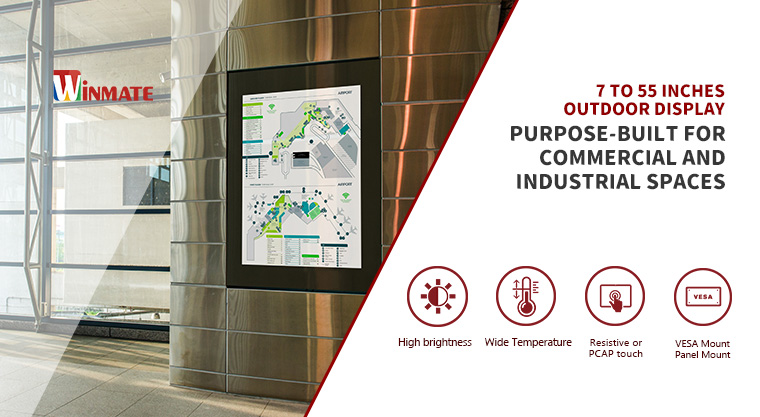 Winmate Inc., a global leader in industrial solutions with more than 25 years of experience creating and delivering high-quality industrial displays monitors, releases the outdoor display series that brings higher visibility for digital drive-thru menus, bus shelter advertising, window displays, smart cities, etc.
Broad Applications
Outdoor displays are well-suited for many commercial and industrial applications. From enterprise, retail, transportation, industrial automation, and many more. The outdoor displays attract more attention than traditional posters and provide a range of content that can be updated in real-time.
With a reliable design, Winmate's outdoor industrial display monitors deliver outstanding image clarity and light transmission with a stable, drift-free operation. Available in a wide range of sizes, touch technologies, and brightness, offering the versatility needed for drive-thru menus, bus stop advertising, window displays, and industrial automation applications.
Versatile installation modes
Winmate industrial display monitors available in VESA and rear mounting. A standard VESA (75 x 75, 100 x 100, and 100 x 200 mm) mounting hole offers desktop or wall-mounted installation flexibility. The touchscreen can be mounted in landscape, portrait, and face-up orientations providing optimal flexibility for mounting in any table, kiosk, or cabinet design. Whether viewing directly, at an angle, or from a distance, our outdoor displays offer what you need while maintaining optimal clarity and the viewing experience you want to deliver. Flexibly install them to match your needs.
Brilliance brightest and customization
Winmate provides a wide range of customization options to meet your requirements, including product size, customer logo, optional heater, glass cover surface treatment, and display port (VGA, HDMI, and DVI). The power plug is selected according to the different styles of each country.
Whether you need a flush-mounted display or one fully encased behind a cover glass, our robust industrial monitor products are purpose-built for durability in various applications and environments.
Vil du vide mere om Winmate, udendørs løsninger eller displays? Vores erfarne rådgivere er klar til at hjælpe dig godt videre, så tag fat i os. Giv os et kald på telefonen, send en mail eller udfyld vores kontaktformular.
Se et udvalg af industri displays her.
Vi leverer specialtilpassede løsninger til industrielt brug. Hvis du vil høre mere om muligheder og løsninger inden for industrielle produkter, så tag fat i os. Vi har et tæt samarbejde med førende leverandører, og er klar til at hjælpe dig videre med den rette industrielle løsning.