Accelerating Edge Computing and IoT deployments - MIX-EHLD1
24-01-2022 09:00:00
Tyndt bundkort med Intel® Atom® X6413E/Celeron® J6412 processor
Edge Computing og IoT - emner det bliver sværere og sværere at ignorere i industrielle sammenhænge og som kræver mere og mere. Med AAEONs mini-itx bundkort gives et løft til ydeevnen i netop edge computing og iot løsninger, da processorerne kommer med markante forbedringer i forhold til forgængerne.
Det brede udvalg af forskellige I/O sikrer at der nemt kan udvides og forbindes til mange andre enheder - blandt andet er der tre outputs til skærme.
Accelerating Edge Computing and IoT Deployments
AAEON had expanded its mini-ITX product lineup with MIX-EHLD1, a mini-ITX thin motherboard powered by Intel® Atom® x6413E/Celeron® J6412 processor (formerly Elkhart Lake) to boost edge computing and IoT performance. Designed as the pioneering processors for IoT enhancement, these processors offer nearly 2x upgrades in single thread, multi-thread, and graphical performances than its predecessor to accelerate real-world edge computing and IoT deployments. In addition, these IoT-centric processors are built in with Intel® Programmable Service Engine (PSE), an efficient offload engine that can reduce the workloads for CPU cores and enable industrial control functions in IoT applications. For expansion purpose, MIX-EHLD1 provides two M.2 slots and one mini-card socket for wireless connectivity, storage, or AI-optimization modules. As IoT applications today require intensive visual presentation, MIX-EHLD1 supports 3 display outputs. Regarding connections with multiple peripheral devices, MIX-EHLD1 comes with two USB3.2 Gen1 ports and four USB2.0 ports.
Features
Intel Elkhart Lake Processor, J6412/X6413E
DDR4 SODIMM x 2, Max. 32GB
M.2 Slot (M key; 2280) x 1, M.2 Slot (B key; 3042/52) x 1, mini card x 1
USB 3.2 Gen1 Ports x 2, USB 2.0 Ports x 4
RTL8111H x 2
HDMI2.0 x 1, VGA x 1, LVDS/eDP x 1
Flexible rear IO (Full IO or Low profile)
12V DC input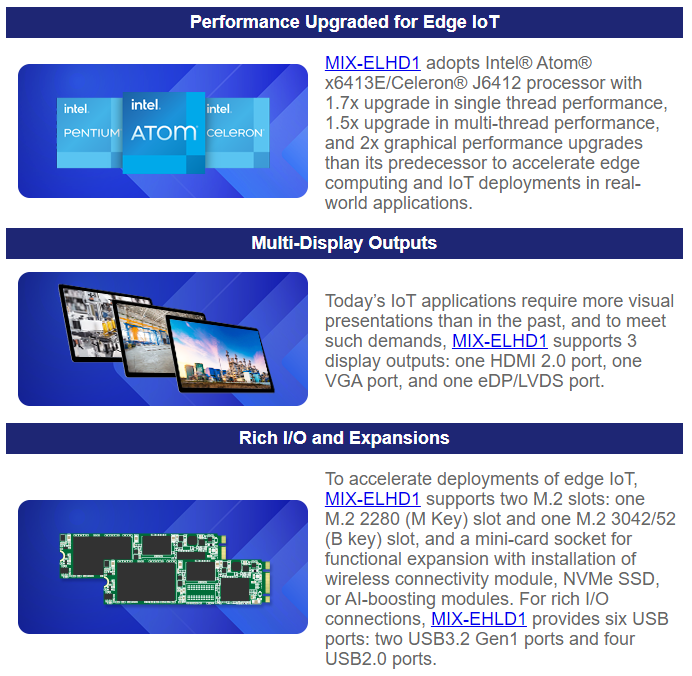 Kontakt vores specialister i dag - klik her
Vil du vide mere om løsninger fra AAEON, Edge Computing, muligheder for muligheder for artificial intelligence, IoT eller andre muligheder for at optimere industrielle processer? Vi er klar til at hjælpe dig videre - kontakt os endelig.
Her kan du se et lille udvalg af produkter til IoT og AI løsninger til industrielt brug.
Vi leverer specialtilpassede løsninger til industrielt brug. Hvis du vil høre mere om muligheder og løsninger inden for industrielle produkter, så tag fat i os. Vi har et tæt samarbejde med førende leverandører, og er klar til at hjælpe dig videre med den rette industrielle løsning.