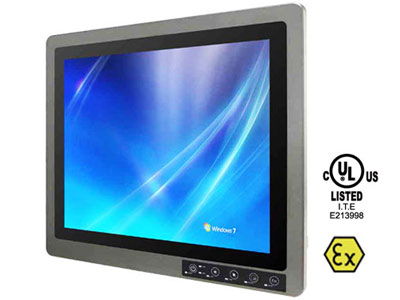 19" Aluminum Panel PC Full IP66
The R19IHAT-66EX 19-inch panel PC offers dual certification, ensuring safe and reliable data collection and processing in hazardous locations. Processor options include a Core i5-4300U with 1.9GHz and turbo frequencies up to 2.9GHz, and the Core i7-4650U with 1.7GHz and a turbo speed up to 3.3GHz. This IP66 version has special IEC Ex & ATEX certified Explosive Atmospheres Cable glands. This model also includes a built-in intelligent heater that boosts the standard 14° to 140°F (-10° to 60°C) operating temperature range to -40° to 158°F (-40° to 70°C) for extreme conditions. These advanced certifications ensure the devices won't produce heat or spark sufficient to ignite explosive atmospheres where gases may have accidentally entered the atmosphere.
Detaljer
Konfiguration:
​Class I, Division 2, Groups A, B, C, and D certificates are available now ATEX II 3 G Ex ic nA IIC T4 Gc
Full IP66 protection against dust and water, MIL-STD-810F certified
Intel Core i7-4650U 1.7GHz (up to 3.3GHz)
Fanless design includes a built-in intelligent heater that boosts to -40° to 70° C for extreme conditions
Datablad
Kontakt os
Hos Sensor ECS er vi specialister.
Er du i tvivl om noget i forbindelse med et projekt?
Kontakt os, hvis du har brug for hjælp til at dit projekt lykkes.
Vi er kun et opkald væk.
Ring til os, og lad os sammen finde den optimale løsning - eller send en besked, så kontakter vi dig.

+45 43 75 44 80
Send besked
Udfyld nedenstående formular såfremt du ønsker at blive kontaktet af en af vores specialister


Lignende produkter findes også til Media og Medical