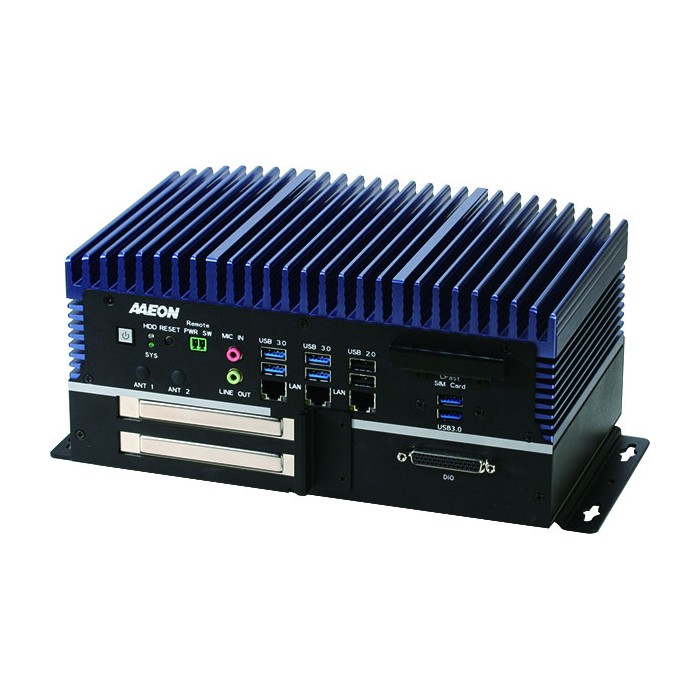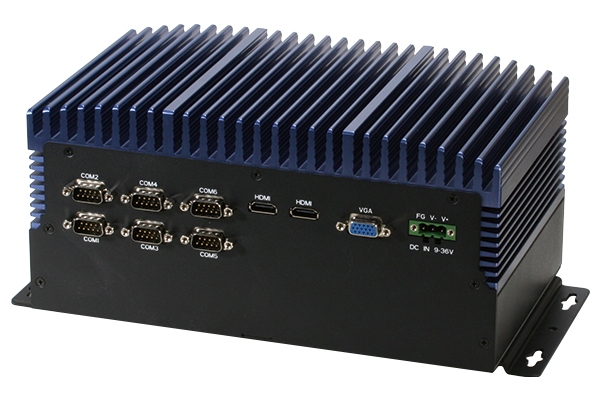 Fanless Embedded Box PC with 6th/ 7th Generation Intel® Core™ Desktop Processor and PCIe [x4] & PCI Expansion
With a specially designed interface that supports PCIe x4, the BOXER-6839 seamlessly integrates various Industrial cameras such as GigaLAN / PoE/ USB 3.0 / CameraLink / CoaXpress. The AAEON Vision System Embedded Fanless BOXER has been tested and proofed with most industrial cameras and vision control software, adhering to stringent industry standards, and is compatible with multiple cameras on a connected platform. Powered by the powerful Intel 7th Gen. desktop CPU and Intel I210 LAN chip, the BOXER-6839 will expedite the assembly process, facilitate effective deployment in smart-factory lines, and enhance system performance at an affordable price.
Unlike former designs, the BOXER-6839 features a lid cover to facilitate easier accessibility. It features a CPU socket which supports swappable CPUs, offering higher customization and mobility options, and provides a triple independent display which will greatly enhance factory product management. Additionally, it offers support for 6 COM RS485 ports, well above the current market average.
Designed to consolidate existing camera systems, AAEON's BOXER-6839 series supports various camera interfaces, providing seamless integration without having to connect through other transponders. The BOXER-6839 provides longevity support and a customizable mechanical design for CPU flexibility to meet the ever-changing needs of both the client and the landscape of Industry 4.0. With a native capacity of 3 GigaLAN ports, as well as a 6 USB 3.0 sockets, 4 LAN ports and 34-bit programmable digital I/O, it can also be adapted for a wide range of industrial manufacturing processes, lowering lead time and enhancing efficiency and accuracy. The rugged chassis design is ideal for smart control systems, machine vision inspection, digital signage, surveillance and machine makers.
Information
+
Beskrivelse
Extreme Computing Power & Graphic Display Capability
Desktop Grade Socket Type Processor with Longevity Support
DDR4 ECC or Non-ECC SODIMM, Up to 32GB
VGA + HDMI x 2 Triple Display, HDMI 4K Display
PCIe [x4] & PCI Expansion
USB 3.0 x 6
Industrial-grade Intel® GbE LAN x 3
Supports BIOS Selectable RS-232/422/485 x 6
Easy Access Design
Wide Range DC 9~36V Input
34-bit Digital Input and Output
Kontakt os
Hos Sensor ECS er vi specialister.
Er du i tvivl om noget i forbindelse med et projekt?
Kontakt os, hvis du har brug for hjælp til at dit projekt lykkes.
Vi er kun et opkald væk.
Ring til os, og lad os sammen finde den optimale løsning - eller send en besked, så kontakter vi dig.

+45 43 75 44 80
Send besked
Udfyld nedenstående formular såfremt du ønsker at blive kontaktet af en af vores specialister

Lignende produkter findes også til Media og Medical