Winmate FM10Q Vehicle Mounted Computer Now with Qualcomm© Snapdragon™ 660 CPU
A Rugged Vehicle Mounted Computer for Data Collection in Warehouse and Logistics Applications.
13-03-2020 14:00:00
Winmate refreshes its iconic Vehicle Mounted Computer FM10Q with the high performance Qualcomm© Snapdragon™ 660 Octa-core, 2.2GHz processor, showcasing industrial-grade computing capability, enterprise mobility and true ruggedness in a VMC form factor. The FM10Q Vehicle Mounted Computer is engineered to fit seamlessly into forklifts, trucks and other warehouse or heavy-duty vehicles, helping minimize errors, streamline operation, and improve efficiency.
High Performance Qualcomm© Snapdragon™ 660CPU with Android 9.0 OS
The FM10Q Vehicle Mounted Computer ships with Qualcomm© Snapdragon™ 660 Octa-core, 2.2GHz processor, ensuring higher computing and graphics performance. Its Android 9.0 operating system benefits users thanks to its openness, customizable features, and robust ecosystem.
10.4" PCAP Touch Panel (Optional High Brightness 1000 nits Panel)
With the 10.4" compact screen size, vehicle operators maintain unobstructed line-of-sight during operations so as to increase efficiencies and minimize errors. The screen boasts PCAP multi-touch technology and anti-scratch properties to deliver an excellent user experience with better environmental resistance. The configuration of 1000 nits high brightness panel assures excellent outdoor readability.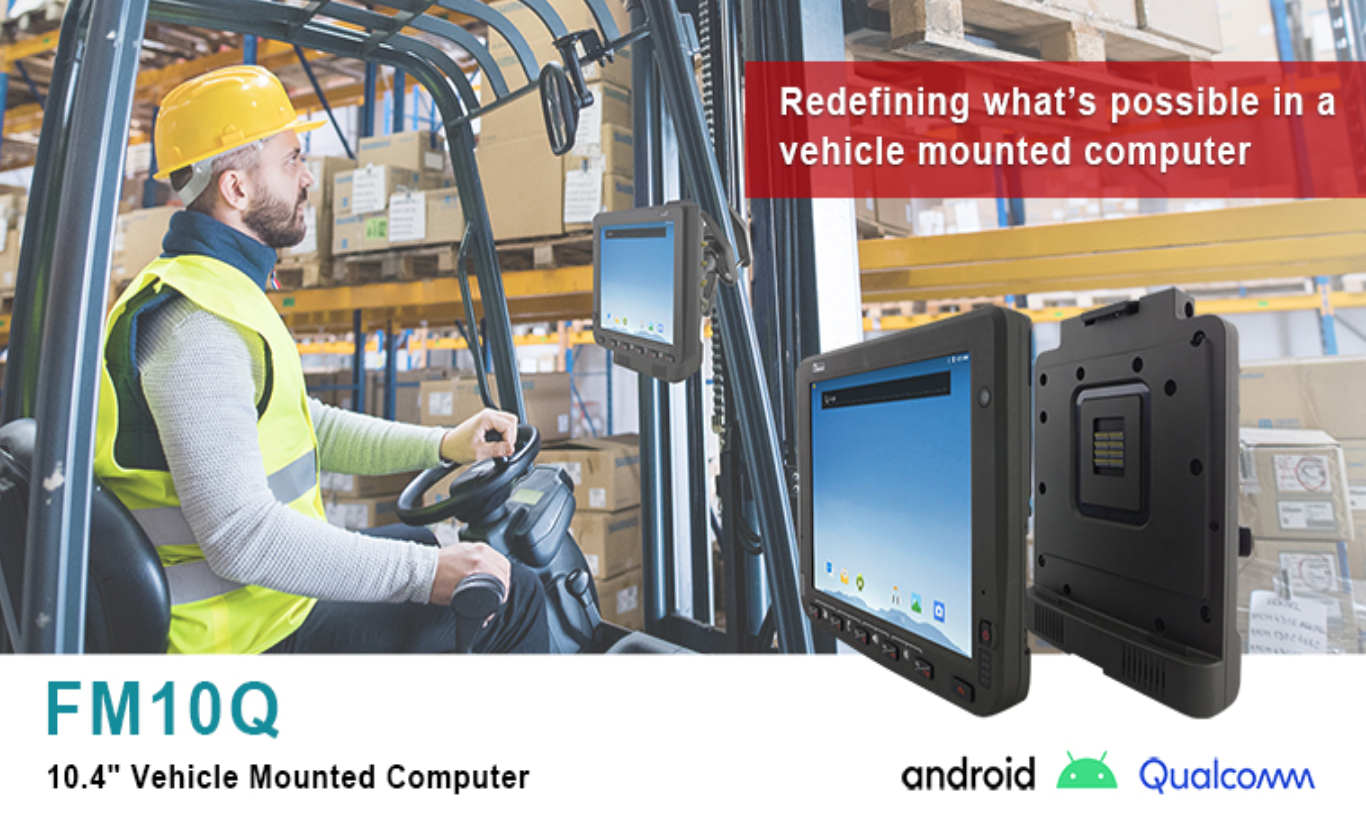 One-Click Latch for Easy Removal of the Device
Designed with enterprise mobility solution in mind, the FM10Q Vehicle Mounted Computer contains the dock with a one-click top latch to allow for easy removal of the device from the dock.
Magnesium Aluminum-Alloy Housing with MIL-STD-810G & IP65 Ratings
When it comes to industrial usage, the device that is rugged enough to survive harsh environments is a must. The FM10Q's durability is proven by its solid enclosure with MIL-STD-810G certification and IP65 rating.
Rich I/O Ports
The FM10Q Vehicle Mounted Computer boasts rich I/O interfaces, including USB 3.0 Type C, DB9 connector for USB2.0 ports, COM, LAN with PoE, CAN bus, Dual-Nano SIM card slot and Micro SD card slot, to support multiple onboard peripherals and deliver a steady output, impressive expandability and maximum efficiency for either in-vehicle or field operations.
Screen Blanking to Improve Safety
Once activated, the function helps reduce visual and cognitive distractions and improve safety by limiting device functionality when the vehicle is moving.
10-60V DC Wide Range Power Input and Power Ignition Control
The wide range power input (10-60V DC) gives the FM10Q Vehicle Mounted Computer an easy device compatibility with a multitude of vehicles while handling unstable voltage from the cars. The power ignition control allows users to control when the vehicle mounted computer turns on/off when the vehicle is started.
Wi-Fi, 4G LTE, Bluetooth and GPS Wireless Connectivity
The Android-based FM10Q Vehicle Mounted Computer contains various wireless connectivity options such as Wi-Fi a/b/g/n/ac, Bluetooth 5.0, 4G and GPS to enable records to be updated in real time, ensure that the most up-to-date information is always available, and plus, optimize vehicle tracking and route optimization.