Widescreen industrial-grade touch panel PCs
10.1" & 15.6" Shockproof and waterproof Panel PC`s with wide operating temperature range.
11-05-2020 14:05:00
The ARC widescreen series allows for continuous interaction in a public network access environment, making it suitable for applications such as information terminal, outdoor digital signage and kiosk. The ARC series' shockproof and waterproof characteristics, and wide operating temperature range, are best demonstrated at the factory end or light industrial environment.
Avalue ARC widescreen series touch-panel PCs are equipped with projected capacitive flat panel touch screen and easy-to-install fanless open-frame modular design. Its 10-inch version features Intel Apollo Lake processor while its 15-inch version features 6th Gen Intel® CoreTM i5-6300U 2.4GHz dual core processor. With IP-65 rating in front and IP-41 rating at the back, the series may be used in dusty or humid factory operating environment. Its 12-26V DC wide voltage input provides stable power supply, reducing system damage caused by unstable power; and it is certified to MIL-STD-810 in vibration, shock and drop tests, ensuring normal operation of industrial automation system even under harsh environmental conditions.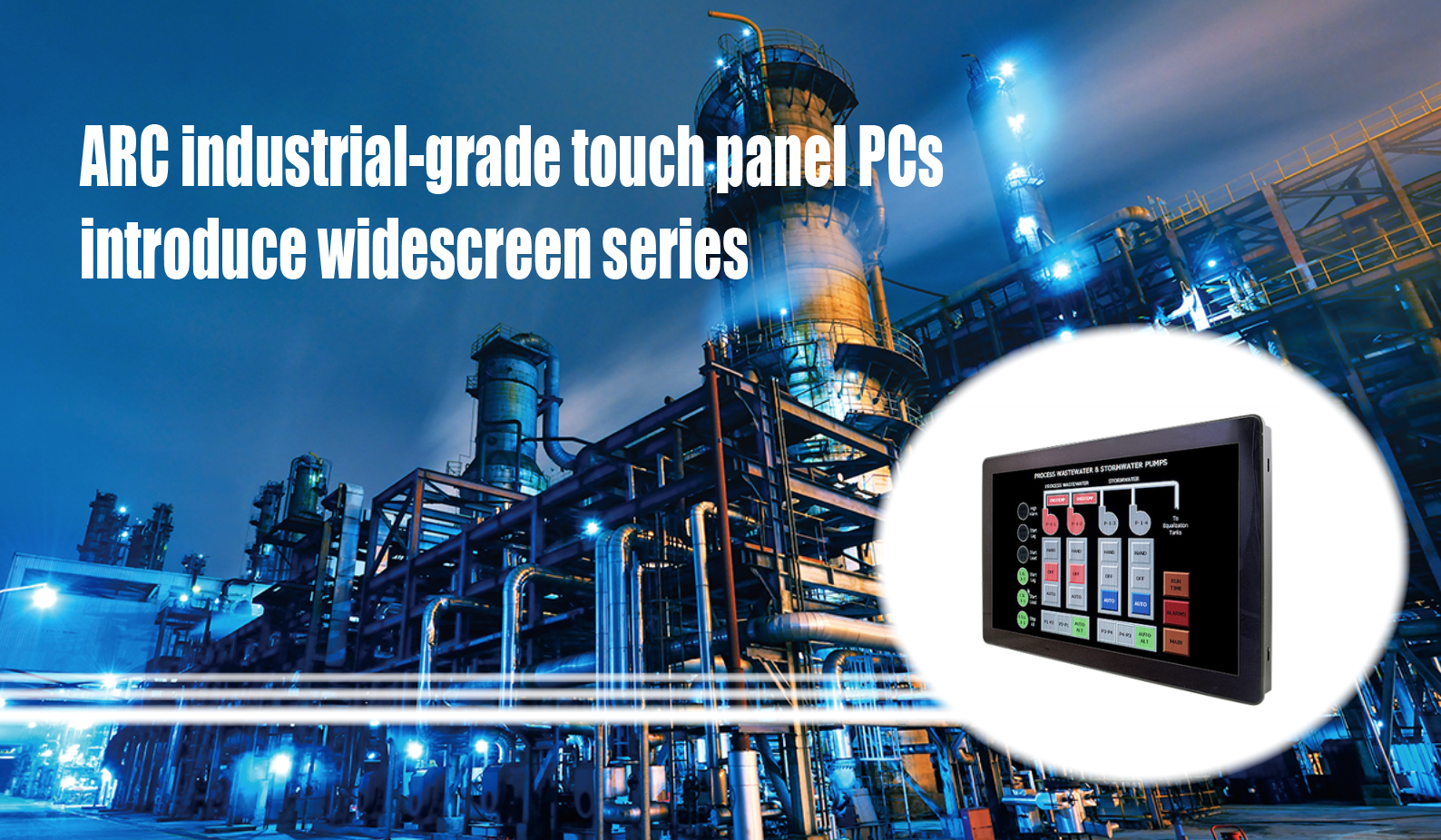 To rectify the problem of screen visibility caused by bright light, reflection or sudden lighting changes in an outdoor or semi-outdoor environment, Avalue ARC series uses optical bonding to achieve perfect bonding between the touchscreen panel and glass protective layer, eliminating any gap or air pocket so that light can directly penetrate glass surface, preventing ghosting caused by refraction. Not only does it provide high quality display under bright ambient lighting conditions, it also allows the user to operate smoothly and conveniently. Furthermore, multiple optical coating technologies are used on the screen surface to solve problems caused by lighting changes, fogging and dirt. Anti-glare coating effectively reduces reflection on screen surface and thus diminishes light interference, while anti-reflection coating reduces light reflection and increases glass screen transmittance. With anti-smudge, also known as anti-fingerprint, coating, the screen surface has a low friction coefficient, giving it the advantages of being highly waterproof, dirt-proof, scratch-proof, fingerprint-proof, static-proof and easy to clean.
The Avalue ARC widescreen series has inherited a highly scalable architecture and its advantages. Its highly flexible I/O expansion port includes USB3.0, HDMI, opto-isolator, GPIO and CAN bus expansion, allowing users to quickly assemble the industrial computer they require according to the specifications, location and budget they have, while ensuring convenient maintenance and flexibility for future upgrades. In addition to the 10-inch and 15-inch screens already launched, a 21-inch widescreen model is expected to roll out in Q2~Q3.
Vil du vide mere?
Hvis du vil se et par andre udvalgte panel pc løsninger, kan du finde dem her.
Vi leverer et langt større udvalg end vist på hjemmesiden.
Vores specialister sidder klar til at hjælpe dig videre med en skræddersyet løsning.
Find vores kontaktoplysninger her.