UP Xtreme i12
Bringing 12th Gen Intel® Core™ power, onboard LPDDR5, and wider expansion support, the UP Xtreme i12 sets a new standard for power, speed, and AI performance.
23-02-2023 08:32:00
UP Xtreme I12 – The Stronger, Faster, Smarter Developer Board
Bringing 12th Gen Intel® Core™ power, onboard LPDDR5, and wider expansion support, the UP Xtreme i12 sets a new standard for power, speed, and AI performance.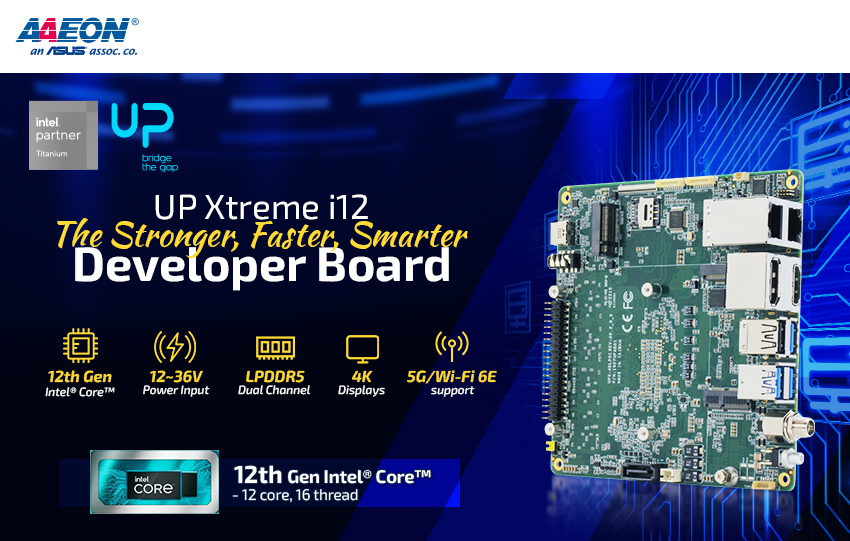 Stronger – Power-Efficient Multicore Architecture
An innovative next generation board, the UP Xtreme i12 hosts the 12 core, 16 thread hybrid architecture of 12th Gen Intel® Core™ Processors (formerly Alder Lake-P). This configuration increases energy-efficiency while doubling its predecessor's thread count. Further, the UP Xtreme i12's wide 12~36V power input range facilitates extended use for industrial applications, such as smart manufacturing. Customers can therefore harness CPU performance up to 20% greater than Tiger Lake while retaining continuous, efficient operation in more challenging environments.
Faster - Onboard LPDDR5, 2.5GbE, and a 2.47 x Increase in Graphics Speed

Greater processing is enhanced by up to 32GB of onboard LPDDR5 system memory, doubling bandwidth and memory capacity without the need for SODIMM module installation. Combining this accelerated data processing with USB 4.0 and 2.5GbE ports ensures high-speed connectivity to peripheral cameras and sensors, making the UP Xtreme i12 the perfect board for smart retail. Additionally, the 2.47 x increase in graphics speed provided by Intel® Iris® Xe graphics, with four simultaneous 4K displays.
Smarter – AI, 5G, Wi-Fi 6, and PCIe 4.0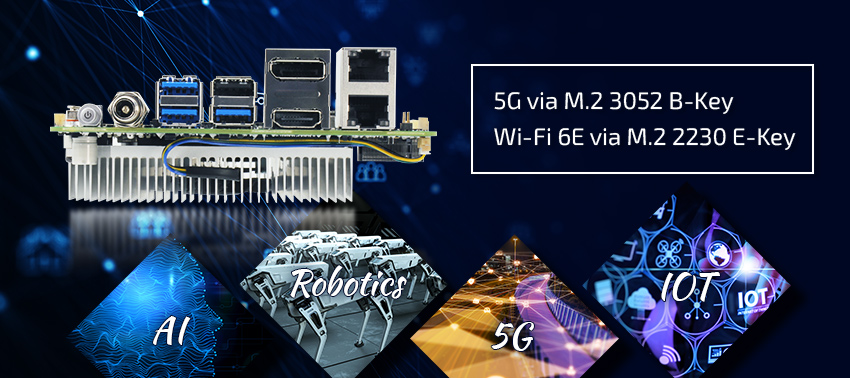 The UP Xtreme i12 offers unprecedented expandability. Supporting Wi-Fi 6 and 5G via M.2 2230 E and 3052 B-Keys, the UP Xtreme i12 also contains two M.2 2280 M-Keys for PCIe 4.0 storage and AI module support. Its AI performance is augmented by Intel® DL Boost and the Intel® distribution of OpenVINO™ toolkit, which yields up to 2.81 x the GPU image classification inferencing performance of the previous generation. Further, its Intel® i226IT ethernet package supports Time Sensitive Networking (TSN) to prioritize real-time workloads and execute tasks within precise time cycles. With such high-level performance, the UP Xtreme i12 presents an elite solution for IoT and robotics projects.
More from the UP Xtreme Range: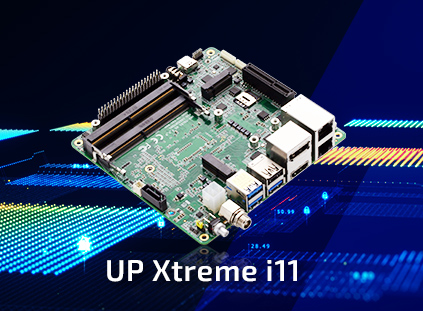 UP Xtreme i11 developer board with 11th generation Intel® Core™ i7/i5/i3/Celeron® Processor SoC (formerly Tiger Lake UP3).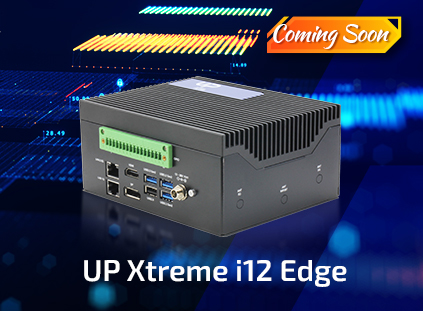 The UP Xtreme i12 will be followed by the UP Xtreme i12 Edge, an embedded fanless edge system for customers that prefer a more plug-and-play solution.
Har AAEONs UP Xtreme i12 vakt din interesse? Vi leverer skræddersyede industri løsninger med hardware fra blandt andet AAEON. Tag fat i os til en snak, når dit industri projekt skal komme godt i mål.
Vi har et udvalg af produkter her på hjemmeside, men tilbyder i samarbejde med AAEON og andre førende producenter i branchen et større udvalg af muligheder.
Vores erfarne rådgivere er klar til at hjælpe dig godt videre, så tag fat i os. Giv os et kald på telefonen, send en mail eller udfyld vores kontaktformular.
Se et par andre nyheder fra AAEON:
RTC-710AP – THE ALL-IN-ONE RUGGED TABLET
DE NEXT-V2K8 – THE WORLD'S SMALLEST AMD RYZEN™ V2000 SERIES-POWERED SBC
NVIDIA JETSON AGX ORIN-BASED BOXER-8641AI
Vi leverer specialtilpassede løsninger til industrielt brug. Hvis du vil høre mere om muligheder og løsninger inden for industrielle produkter, så tag fat i os. Vi har et tæt samarbejde med førende leverandører, og er klar til at hjælpe dig videre med den rette industrielle løsning.