The New COM-ICDB7 – Smaller, Smarter, Superior
23-02-2023 08:32:00
The New COM-ICDB7 – Smaller, Smarter, Superior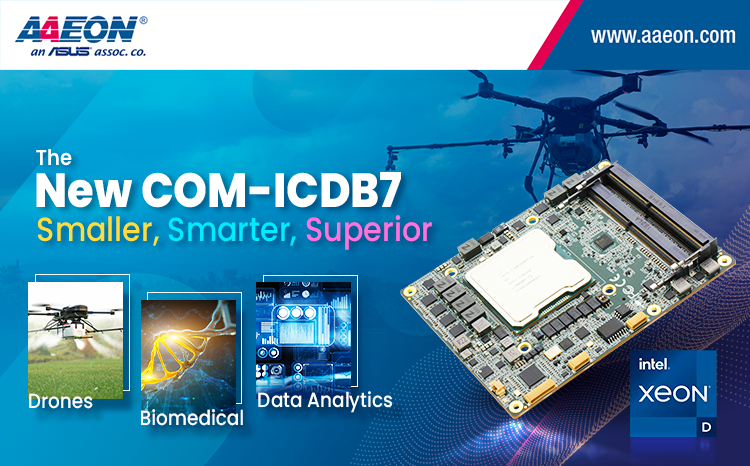 The COM-ICDB7 is AAEON's newest addition to its COM Express Module range, providing a greater depth of application potential among an already versatile product line. Powered by the 3rd Generation Intel® Xeon® D Processor platform (formerly Ice Lake-D), the COM-ICDB7's small size, server-grade CPU, and flexibility in deployment make it the intelligent choice for more cerebral applications; such as drone fleet control, biomedical science, and data analytics applications.

Measuring just 4.92" x 3.75" (125mm x 95mm), yet powered by the Intel Ice Lake-D platform, the COM-ICDB7 offers server-grade CPU performance of 10 cores and 20 threads on a diminutive COM Express Type 7 form factor. Supporting a 70W CPU, the COM-ICDB7 can power multiple modules via one PCIe 4.0 [x16] and four PCIe 3.0 [x4] slots, making it conducive to deployment in industrial automation settings. Further, the COM-ICDB7's 10GbE also gives users the capacity to transfer a greater volume of data more efficiently, optimizing its utility as an edge server application.

AAEON focused on flexible, customer-centric design to punctuate the COM-ICDB7's durability, with customization options such as wider operational temperature ranges available to ensure the module is suited to harsher deployment environments. This flexible approach is particularly suitable for smart city, transport, and drone fleet control due to the more rigorous demands in such fields. Additionally, the COM-ICDB7 can be equipped with a custom carrier board, offering a more cost-effective approach to outdoor deployment by preventing the need to replace the entire system in the event of damage.

With two DDR4 SODIMM sockets providing up to 64GB system memory with ECC support, the COM-ICDB7offers excellent data processing capabilities. This allows it to execute complex high-performance computing tasks for solutions in fields such as industrial automation, edge servers, and data centers by channeling the 10 core, 20 thread performance of the Intel Xeon D-1746TER processor. The DDR4 system memory's ECC support also adds stability to large data analytics applications across a diverse spectrum of vertical markets, including financial technology and smart healthcare.
Har AAEONs COM Express Modul vakt din interesse? Vi leverer skræddersyede industri løsninger med hardware fra blandt andet AAEON. Tag fat i os til en snak, når dit industri projekt skal komme godt i mål.
Vi har et udvalg af produkter her på hjemmeside, men tilbyder i samarbejde med AAEON og andre førende producenter i branchen et større udvalg af muligheder.
Vores erfarne rådgivere er klar til at hjælpe dig godt videre, så tag fat i os. Giv os et kald på telefonen, send en mail eller udfyld vores kontaktformular.
Se et par andre nyheder fra AAEON:
RTC-710AP – THE ALL-IN-ONE RUGGED TABLET
DE NEXT-V2K8 – THE WORLD'S SMALLEST AMD RYZEN™ V2000 SERIES-POWERED SBC
NVIDIA JETSON AGX ORIN-BASED BOXER-8641AI
Vi leverer specialtilpassede løsninger til industrielt brug. Hvis du vil høre mere om muligheder og løsninger inden for industrielle produkter, så tag fat i os. Vi har et tæt samarbejde med førende leverandører, og er klar til at hjælpe dig videre med den rette industrielle løsning.