Parking On The Edge With The BOXER-8221AI
How AAEON's Edge Solutions are Revolutionizing Parking in Taiwan
A company was tasked with providing 500 smart parking meters to a city in Taiwan, and chose AAEON's BOXER-8221AI Compact Fanless Embedded BOX PC to power the application. The smart parking meter's mechanics were comprised of two street-level cameras, mounted to bollard fixtures adjacent to each roadside parking space. AAEON's BOXER-8221AI, featuring the NVIDIA® Jetson Nano™, enabled the smart parking meters to determine the duration that a car had parked in a space using real-time license plate recognition, and automatically issue tickets to drivers via text, with the help of the company's software, which calculated the fee with their own algorithm. With NVIDIA's Maxwell™ GPU architecture allowing processing speeds up to 472 GFLOPs, the smart parking meters could process several high-resolution images at the same time, ensuring the accuracy of the parking data, while analyzing parking patterns through its AI learning capabilities.

Challenges
Power - Efficiency or Deficiency?

Powering the smart parking meters via integration with Taiwan's national power grid was not possible, due to potential instability that would jeopardize the function of the meters. However, using a lower voltage power source would limit the range of available AI-capable solutions, so a novel solution was needed.
Finding the Right Connection

Given the lack of a strong, stable power source, the product chosen would need to be power-efficient to avoid interruptions to the function of the application, which could result in connectivity issues, risking data transfer delays and potentially resulting in incorrect billing calculations.
AAEON's Solutions
Power Through Collaboration

Taiwan's smart parking meter required an independent power source, so the company partnered with a Taiwanese company specializing in the sale and rent of urban electric scooters, enabling the smart parking meter to be powered by swappable and rechargeable modular batteries. By powering the smart parking meter with batteries, the company did not need to install any additional power lines or invest in additional infrastructural development. Meanwhile, the BOXER-8221AI offered AI capability via the Jetson Nano, while consuming less power, meaning each battery could power a smart parking meter for 14 days before requiring replacement.
An LPWANderful Solution for Connectivity

With the license plate data identified by the AI inferencing capability of the Jetson Nano, and the application storing the camera's metadata on the meter at ground level, the only data transferred to the cloud was the license plate number, duration of stay, and the parking fee. This was sent via CAT M1, a low-power wide area network (LPWAN) cellular technology, making the process power-efficient and aligned with the capabilities of both the Jetson Nano and the batteries powering the application.
Impact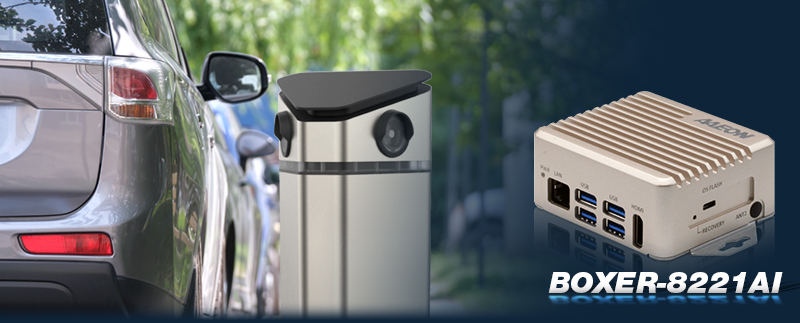 The introduction of 500 smart parking meters in the Taiwanese city was very successful and well received. The time spent looking for a parking space was said to have been reduced by as much as 43%. In addition to this, the ease and efficiency of the smart parking meter saw overall traffic volume decrease by approximately 8%, overall traffic speed increase by 3%, and saw parking availability increase deployment area.
The success of this application demonstrated the versatility and suitability of the BOXER-8221AI across applications in a number of environments, with its superb combination of rugged durability, compact size, and sophisticated edge computing capabilities, thanks to the Jetson Nano's Maxwell GPU architecture featuring 128 NVIDIA CUDA cores.
With the BOXER-8221AI, customers can also rely on optimal performance in suboptimal conditions with AAEON's anti-dust, anti-vibration, and power input protection, along with superb I/O options which cater to a broad range of applications, such as AI robotics and traffic-flow management, along with the success of this smart parking initiative.
Kontakt vores specialister i dag - klik her
Vil du vide mere om muligheder og løsninger med produkter fra AAEON? Vores erfarne rådgivere er klar til at hjælpe dig godt videre, så tag fat i os. Giv os et kald på telefonen, send en mail eller udfyld vores kontaktformular. Vi rådgiver og finder det rigtige til dig.
Se mere om vores samarbejde med AAEON her.
Se et udvalg af industrielle produkter her.
Vi leverer specialtilpassede løsninger til industrielt brug. Hvis du vil høre mere om muligheder og løsninger inden for industrielle produkter, så tag fat i os. Vi har et tæt samarbejde med førende leverandører, og er klar til at hjælpe dig videre med den rette industrielle løsning.