S101TG - Robust tablet computer
S101TG serien af hårdføre tablets fra Winmate er klar til at understøtte effektiv industrial automatisering. Med Intel® Core™ i3-1115G4 Tiger Lake.
28-06-2022 09:39:00
Generate More Value Where Speed Matters With S101TG Rugged Tablet
10.1" Intel® Core™ i3-1115G4 Rugged Tablet PC for Industrial Automation
S101TG – A Robust Tablet Computer for Industrial Automation
Winmate S101TG Rugged Tablet PC is specially created for futuristic industrialization. Powered by the powerful Intel® Core™ i3-1115G4 Tiger Lake, it also features IP65 water and dust protection, along with MIL-STD-810H standard compliance for shock, vibration, and drop. S101TG is built to be ready to go in the most challenging conditions. A brilliant sunlight-readable screen, offers the best depiction of every diagram and spreadsheet, indoor and outdoor — no more interrupted work due to the unclear screen.
S101TG Rugged Tablet is confirmed reliable and durable to support machine automation, assembly line monitoring, user terminals, or inside heavy machinery. You can choose the customized accessories based on your application requirements, like the carry bag, hand strap, shoulder strap, etc. – all for worker's convenience.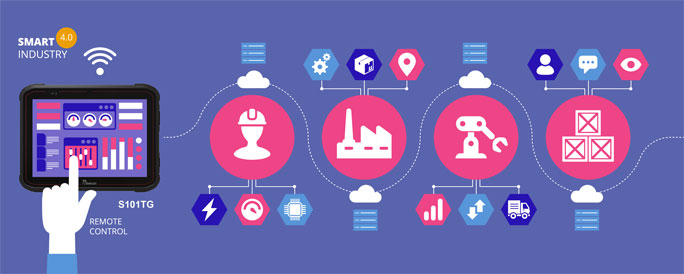 Ultimate Productivity
Improve work capability by staying efficient during all-day shifts. With S101TG Rugged Tablet PC, on-site workers can have a portable computing solution within reach and use it all day long. The S101TG Rugged Tablet PC is equipped with a optional hot-swappable battery. Just switch the battery when changing the shift, and you are good to go.
S101TG Rugged Series: Key Benefits
✔ High Performance with Intel's CPU
The S101TG uses the 11th generation Intel® Tiger Lake processor with an efficient cooling system to provide stable performance and low power consumption. The S101TG supports the latest Windows® 10 IoT Enterprise operating system to meet the industrial application's requirements. Like enterprise manageability and security to IoT solutions.
✔ Real-Time Data and Wireless Connectivity
Real-time data access to the right information is crucial for industrial automation. The S101 series offers GPS, GLONASS, Wi-Fi 802.11 a/b/g/n/ac/ax, Bluetooth 5.2, and optional 4G LTE to enable robust communications anytime and anywhere. The S101 series is also equipped with a built-in 8MP rear camera with Auto-focus and LED flash, front 2.0 MP camera, and optional extension module such as barcode reader to ensure comprehensive data acquisition.
A Closer Look: S101TG
Why S101TG?
The S101 tablet series provides stable performance and low power consumption. It is powered by a highly-rated Intel® 11th generation Tiger Lake processor with an incredibly efficient cooling system to match.
Survive The Harsh
Built to withstand shock, vibration, and drops of up to 4ft., the S101 series complies with stringent military standards. At the same time, it is protected against water and dust with IP65 protection.
Key Product Features
11th generation Intel® Tiger Lake processor
1920 x 1200 WUXGA with PCAP touch
Anti-glare screen protection film
Sunlight readability technology
2MP front camera and 8MP Auto-Focus Rear Camera
IP65 waterproof and dustproof
Passed MIL-STD-810H shock,vibration, and drop tests.
Optional 1D/2D Barcode Reader
Optional Ethernet thru Giga LAN (RJ45)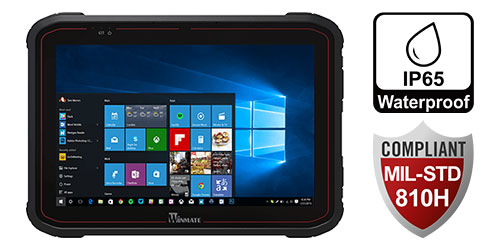 Kontakt vores specialister i dag - klik her
Vil du vide mere om hårdføre laptops, tablets eller andre IT produkter til industri - eller bare noget fra Winmate? Vores erfarne rådgivere er klar til at hjælpe dig godt videre, så tag fat i os. Giv os et kald på telefonen, send en mail eller udfyld vores kontaktformular. Vi rådgiver og finder det rigtige til dig.
Se flere industrielle og hårdføre produkter her.
Vi leverer specialtilpassede løsninger til industrielt brug. Hvis du vil høre mere om muligheder og løsninger inden for industrielle produkter, så tag fat i os. Vi har et tæt samarbejde med førende leverandører, og er klar til at hjælpe dig videre med den rette industrielle løsning.
Se mere om vores samarbejde med Winmate her.
Winmate er kendt for deres særligt hårdføre produkter, der fx tæller computer løsninger til køretøjer, produktionsanlæg, industrielle skærme, marine computere, militær panel pc'er, tablets til hospitaler og meget andet.