Avalue launches the Panel Kits series to provide the multiple application of the display development module

Avalue has recently launched Panel Kits, which are suitable to combine with any specification of motherboards and every kind of mechanical design. Based on the flexible feature of Panel kits, they not only provide high-quality display developing solutions but significantly reduce the product developing time.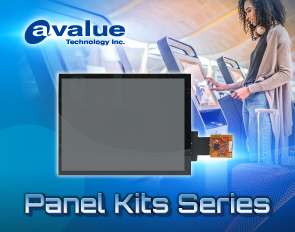 Primary target markets for Avalue Panel Kits include smart factories (e.g. industrial automation, HMI and package recognition system), smart retail (e.g. kiosk, interactive digital signage, multimedia kiosk, and public Internet), intelligent transportation (e.g. outdoor payment terminal), and smart home (e.g. conference system and sports and fitness equipment).
Panel Kits
Avalue Panel Kits are developed to meet the most versatile mechanical design requirements for various applications. Due to the easy combination of SBCs and embedded systems, Panel Kits fit to diverse fields of application through different customization requirements. Using Panel Kits for product development also significantly reduces assembly, testing, and development time for display.
Panel Kits consist of bonded panel and touch modules, as follows:
Select full-size and multifunctional industrial LCD display panels: Support a wide range of sizes, including 7"/8"/10.1"/10.4"/12.1"/15"/15.6"/17"/21.5"/22", and aspect ratio, including 4:3, 16:9 and 16:10. To meet the requirements of specific application scenarios, additional options include brightness, contrast ratio, viewing angle, and operating temperature.
Two types of bonding options: Air bonding uses adhesive to bond display panel and touch from four sides. This is a lower cost option and is suitable for many solutions in most fields of application. Optical bonding has the benefits about anti-glare and anti-reflection. This bonding process is usually used for sunlight readable request and high ability of surface protection. Depending on requirements, different types of coating may be chosen to fulfill anti-UV, anti-fingerprint effects, and increase screen brightness, making it especially suitable for outdoor use.
Multi-touch projective capacitive touch panel or 5-wire resistive touch panel: Projective capacitive touch panel is more transparent, anti-scratch, sensitive, and supports multi-touch requirements. 5-wire resistive touch panel costs less to produce, making it the most cost-effective touchscreen solution. It can accurately detect touch commands through bare finger, stylus, and glove, and can be used even in a slightly humid environment.
Panel Kits are developed for manufacturers who already have mechanical design capability and for those who have existing SBCs or embedded systems, and require the Panel Kits for touchscreen functions in their projects. Avalue Panel Kits can also be used as repair kits for existing touchscreen solutions when damage to the display panel or touchscreen functions.
In comparison to similar products in the market, Avalue Panel Kits offer a greater selection of sizes and display types, providing more flexible choices and faster product introduction. Furthermore, Avalue provides full customization service, including selection from many types of coating and bonding, and customized trademark.
Kontakt vores specialister i dag - klik her
Vil du vide mere om løsninger fra Avalue, displays, panel PC m.m.? Vores erfarne rådgivere er klar til at hjælpe dig godt videre, så tag fat i os.
Vi leverer specialtilpassede løsninger til industrielt brug. Hvis du vil høre mere om muligheder og løsninger inden for industrielle produkter, så tag fat i os. Vi har et tæt samarbejde med førende leverandører, og er klar til at hjælpe dig videre med den rette industrielle løsning.