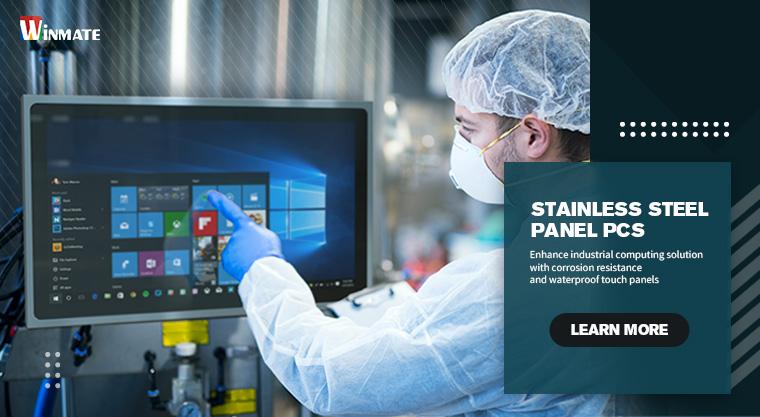 Optimize Hygienic Operation with Stainless Steel Touch Panel PCs
Winmate IP65, IP67, and IP69K Waterproof Computing Solution
16-11-2022 08:00:00
Optimize Hygienic Operation
with Stainless Steel Touch Panel PCs
Winmate IP65, IP67, and IP69K Waterproof Computing Solution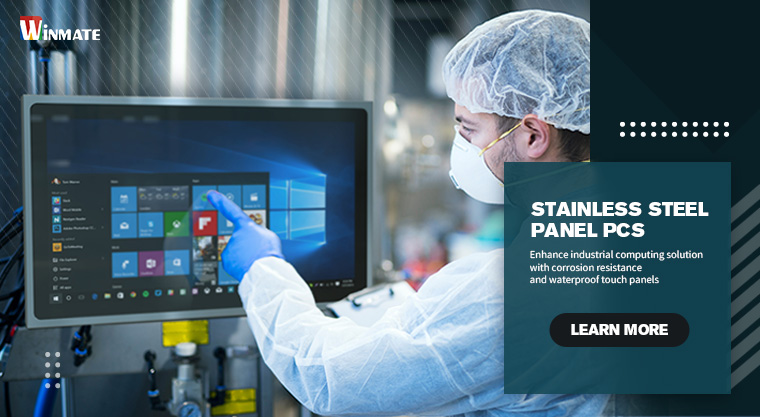 As an innovative industrial computer provider, Winmate offers rugged tablets, industrial display systems, and touch panels that are optimized for applications in manufacturing, defense, energy and utilities, transportation, marine, and various other fields. Abundant hardware product development experience combined with innovative engineering capabilities allows Winmate to offer products with the highest quality and reliability standards that are engineered to meet industry-specific requirements and certifications. Such as our purpose-built stainless panel PCs to meet the strict hygiene and safety standards for consumer goods and manufacturing automation.
Winmate stainless touch panels come in various sizes and processors in fully IP65/IP67/IP69K waterproof rated and reliable working in harsh environments against hazards including dust, dirt, water, oil, grease, bio-fluids, and chemicals.
Corrosion-resistant SUS 316 / AISI 316 Stainless Steels
Hygiene and product safety in the food, pharmaceutical, and cosmetic industries are critical. Contamination prevention from unwanted particles, bacteria, and germs is crucial for preventing food waste, poisoning, and health-concern issues. Winmate stainless steel chassis and waterproof Panel PC with the flush-front panel and sleek exterior help the system to avoid liquid residue accumulation. This simultaneously offers computing power with easy-to-clean solutions. The device can be washed with water, detergents, and acidic/alkaline disinfectants to meet hygienic standards.
Cleaning and Washdowns Safety Design
Occupational safety and health are among the priority cross-industries, including safe working conditions to prevent hazards and injuries. Winmate industrial panel PC is configured with various safety modes such as waterproof connectors, conduit pipe, etc. to prevent potential water damage during daily washdown. Also, the IP69K stainless series touch panels come with an air vent valve and automatic mechanical system controls to maintain pressure and avoid air-related problems during hot and pressurized water cleaning.
Fast data input via touchscreen
Winmate hygienic stainless steel touch panels powered by Intel processors offer an efficient data processing capability. A highly-sensitive touch screen and PCAP multi-touch support make it easy for users to key in data, rotate images, zoom, drag, and drop files with two or more fingers. The touchscreen modes support hand, gloves, and wet finger uses.
Broad Industrial Applications
Hygienic stainless steel Panel PCs are well suited for many industrial applications, such as sustainable food production, packaging, cosmetics, meat processing, and many more. With a reliable and waterproofing design, Winmate's stainless steel touch panels deliver outstanding image clarity and light transmission with a stable, drift-free operation. The touchscreen display line is available in a wide range of sizes, touch technologies, and brightness, offering the versatility needed for industrial automation applications.
Vil du vide mere om Winmates industri displays? Vores erfarne rådgivere er klar til at hjælpe dig godt videre, så tag fat i os. Giv os et kald på telefonen, send en mail eller udfyld vores kontaktformular. Vi rådgiver og finder det rigtige til dig.
Se mere om vores samarbejde med Winmate her.
Se et udvalg af boards til industri displays her.
Se et udvalg af andre industrielle produkter her.
Vi leverer specialtilpassede løsninger til industrielt brug. Hvis du vil høre mere om muligheder og løsninger inden for industrielle produkter, så tag fat i os. Vi har et tæt samarbejde med førende leverandører, og er klar til at hjælpe dig videre med den rette industrielle løsning.