Open-frame multitouch panel PCs with 11th Gen Intel® processor
New models OFP-15W38, OFP-21W38
08-12-2022 00:00:00
Avalue launches open-frame multitouch panel PCs
OFP-15W38, OFP-21W38 with 11th Gen Intel® processor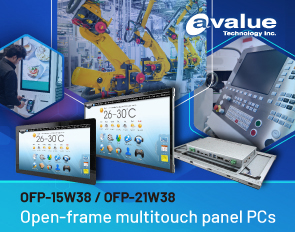 Avalue has recently launched a new series of open frame models – OFP-15W38 and OFP-21W38. Featuring 11th Gen Intel® processor, it boasts faster computing performance which better meets the requirements of the IoT market, supporting low-latency response for time-sensitive applications, and able to execute multiple workloads on a single platform. Highly flexible and customizable, Avalue open-frame panels provide the perfect fit to customers' requirements, making it Avalue's best-selling series. The OFP series is suitable for use in a wide variety of scenarios, including factory automation, self-service kiosks and HMI applications.
Diverse I/O ports
Not only is the OFP series available in a wide range of sizes, i.e. from 7 inches to 21 inches, it is also designed with 4xUSB, 1xCOM, 2xLAN ports, and room for more USB and COM ports, meeting the need for further expansion and connection with various accessories. Furthermore, it also provides a large array of tested and certified accessories for customers' selection, including WiFi and Bluetooth module, camera module, barcode scanner, MSR, NFC/RFID, and smart card reader.
Support multiple operating systems
OFP series supports multiple operating systems:
Windows 10 IoT
Linux
x86 Android 8.1 (Apollo Lake)
Maximum flexibility is provided as users may install the operating system they need.
Wide selection of installation kits
As the OFP series is designed for various embedded applications, Avalue has also provided a wide selection of installation kits to meet the requirements of different scenarios, including wall mounting, panel mounting and VESA mounting (*OFP-07W33 only allows panel mounting). Customers may select a suitable installation kit according to their own applications and requirements.
Vil du vide mere om industrielle panel PC'er eller andre Avalue produkter? Vores erfarne rådgivere er klar til at hjælpe dig godt videre, så tag fat i os. Giv os et kald på telefonen, send en mail eller udfyld vores kontaktformular.
Her kan du se et udvalg af andre panel PC'er.
Vi leverer specialtilpassede løsninger til industrielt brug. Hvis du vil høre mere om muligheder og løsninger inden for industrielle produkter, så tag fat i os. Vi har et tæt samarbejde med førende leverandører, og er klar til at hjælpe dig videre med den rette industrielle løsning.