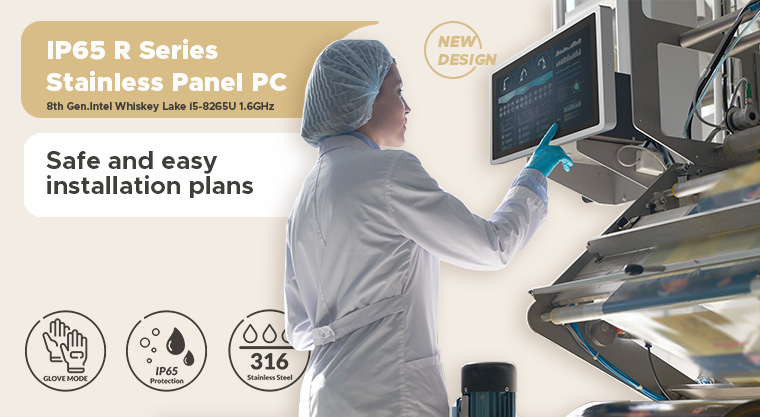 Manufacturing Hygiene Excellence - Fanless Panel PC
Panel PC'er i høj kvalitet imødekommer effektivt høje hygiejnekrav. Ideel til fx fødevareproduktion, emballering m.m. LCD skærm rengøres let. 15" – 23.8".
30-05-2022 11:21:00
Fanless Panel PCs for Manufacturing Hygiene Excellence
Boost productivity between fingertips with Winmate R Series Stainless Fanless Panel PCs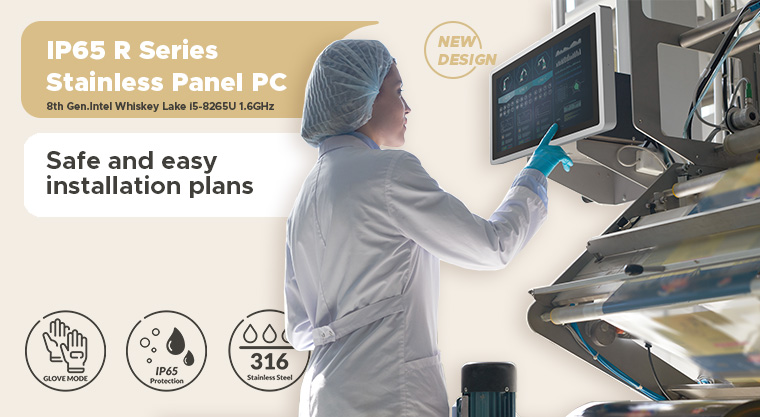 As a pioneer in rugged computers and touch panel technology, Winmate has always predominantly relied on high-quality materials for its products. We offer you a wide selection of fanless panel PCs to fulfill specific hygienic and mechanical requirements from the front to the all-around IP65, IP67, and IP69K fanless panel pcs.
Winmate develops a brand new stainless panel PCs product line, the R series, offering touchscreen monitors' quality, reliability, and durability in a new design. What makes R series Panel PC different?
Round corner design
Unlike other panel PCs, the Winmate R series Stainless Panel PC is designed with a flat touch screen, IP65 protection, and round corners form.
The round corner shape on fanless panel PCs prevents bumping, scratches, and injuries, increasing workplace safety.
Universal carrying system and junction box
Aside from the round corners for workplace safety, the R series fanless panel PCs have universal mounting options for various application scenarios. Panel mounts, arm mounts, and VESA mounts are all available. The R series stainless touch PCs also include a waterproof junction box. It provides additional water protection and a neat cable trunk and facilitates installation. Install the panel PCs as a stand, a hanging device, or other ways to meet your needs.
Touchable with gloves
Fanless panel PCs in the R series are designed for dusty and damp environments such as food manufacturers or kitchens, chemical plants, storage warehouses, etc. Varied LCD sizes are supported to meet the needs of various applications. Users can enter, rotate, drag, drop data, also zoom in with bare fingers or even gloves, thanks to the susceptible touch screen and PCAP multi-touch screen.
Specially designed for washdown applications
Stainless steel fanless panel PCs are essential when devices must meet stringent sanitary, mechanical, or optical criteria. Stainless steel is more resistant to corrosion than powder-coated metal. As a result, most damages are simply cosmetic, optical in nature, while the functions and resistance of a stainless steel panel PC remain unaffected. Winmate R series Stainless Panel PCs have exceptional chemical and mechanical qualities with a high-end appearance. This R series stainless panel PCs series is excellent for food & beverage, packing, sanitary ware manufacturing, industrial automation, chemicals, logistics, warehousing, and many more industries due to its full IP65 protection.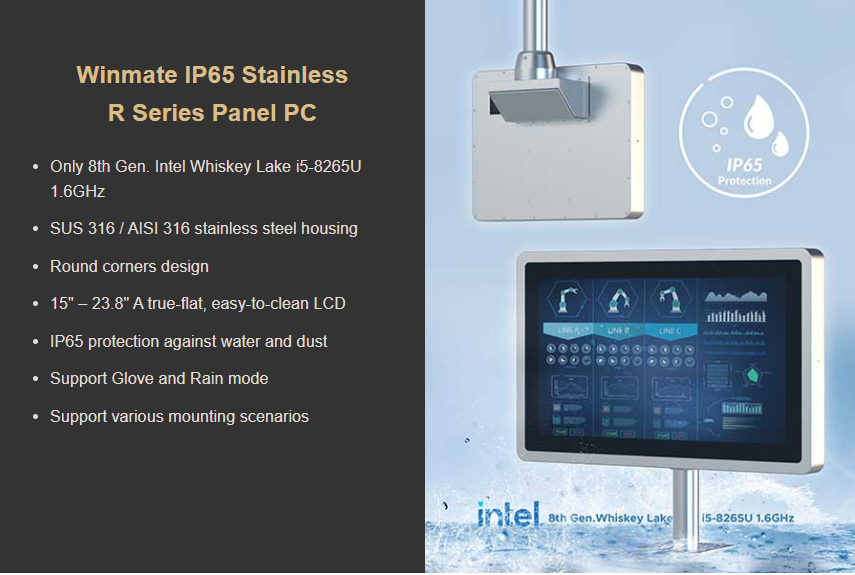 Did You Know?
SUS 316 / AISI 316 Stainless Steel Standard
While AISI (American Iron and Steel Institute) standards are one of the most popular designation methods in the field of stainless steel, SUS (Steel Use Stainless) is the Japanese name for stainless steel standard, designated by Japanese Industrial Standards (JIS).
The main difference between the two materials is not any physical property or feature but how it is referenced in American and Japanese grades.
SUS / ANSI / SS 316 is the second most widely used type of stainless steel after the SS 304. However, while both are typically used in industry, SS 316 is used in harsher environments where there is a need for:
Greater corrosion resistance.
Greater tensile strength at higher operating temperatures.
Acidic resistance of solutions of nitric acid of concentration as high as 5% at 50 °C.
Phosphoric acid of concentration of up to 20% at 100 °C.
Kontakt vores specialister i dag - klik her
Vil du vide mere om panel PC'er til industri - eller bare noget andet fra Winmate? Vores erfarne rådgivere er klar til at hjælpe dig godt videre, så tag fat i os. Giv os et kald på telefonen, send en mail eller udfyld vores kontaktformular. Vi rådgiver og finder det rigtige til dig.
Se flere industrielle og hårdføre produkter her.
Vi leverer specialtilpassede løsninger til industrielt brug. Hvis du vil høre mere om muligheder og løsninger inden for industrielle produkter, så tag fat i os. Vi har et tæt samarbejde med førende leverandører, og er klar til at hjælpe dig videre med den rette industrielle løsning.
Se mere om vores samarbejde med Winmate her.
Winmate er kendt for deres særligt hårdføre produkter, der fx tæller computer løsninger til køretøjer, produktionsanlæg, industrielle skærme, marine computere, militær panel pc'er, tablets til hospitaler og meget andet.