M.2 (P80) 4TG2-P fra Innodisk
Mere data kræver bedre datalagring. Med denne SSD imødekommes kravene til industriel håndtering af data. Innovativ Thermal Throttle Management algoritme sikrer stabil hastighed.
24-10-2022 08:00:00
M.2 (P80) 4TG2-P serie fra Innodisk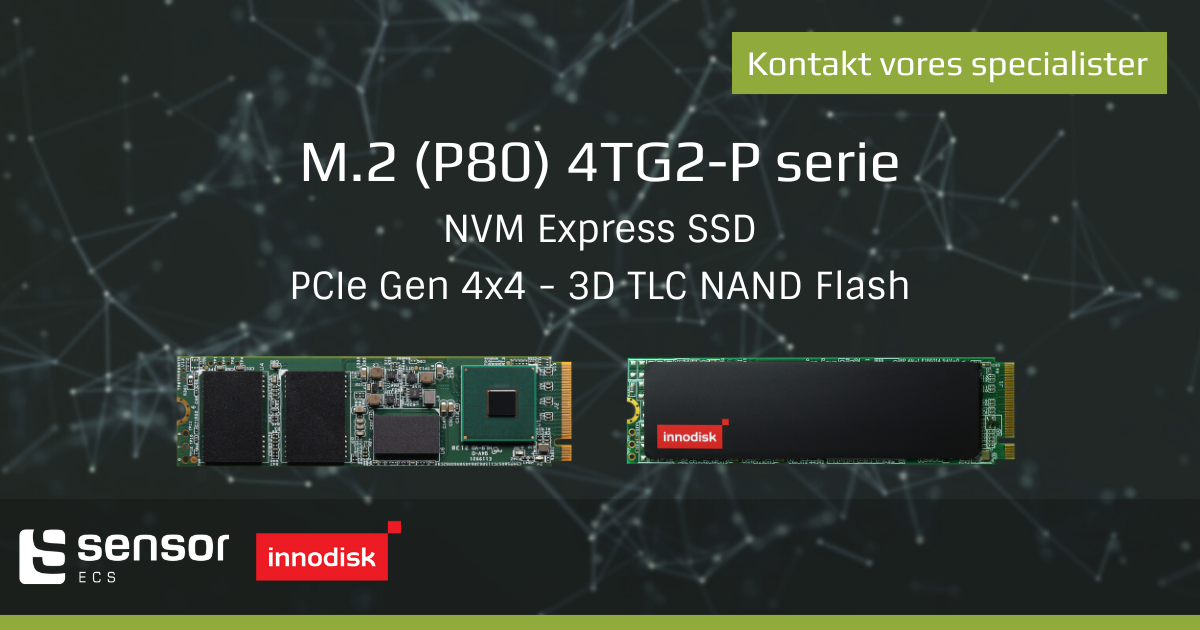 Innodisk M.2 (P80) 4TG2-P is an NVM Express SSD designed as the standard M.2 form factor with PCIe interface and 3D TLC NAND Flash. M.2 (P80) 4TG2-P supports PCIe Gen IVx4, and it is compliant with NVMe1.4 providing excellent performance.
M.2 (P80) 4TG2-P with heat-spreading design dissipate heat generating from IC making SSD perform more steady. M.2 (P80) 4TG2-P have Die RAID protection to reduce bad blocks happening and optimize data integrity.
Innodisk M.2 (P80) 4TG2-P provides ultra-speed and high IOPS and offers maximum capacity up to 4TB, making the SSD optimal for server and heavy data workload applications.
Product features
PCIe Gen. IVx4,NVMe 1.4
Excellent data transfer speed
Stable sustained performance
Heat-spreading design
LDPC ECC engine supported.
Thermal Throttling management
Specifications - M.2 (P80) 4TG2-P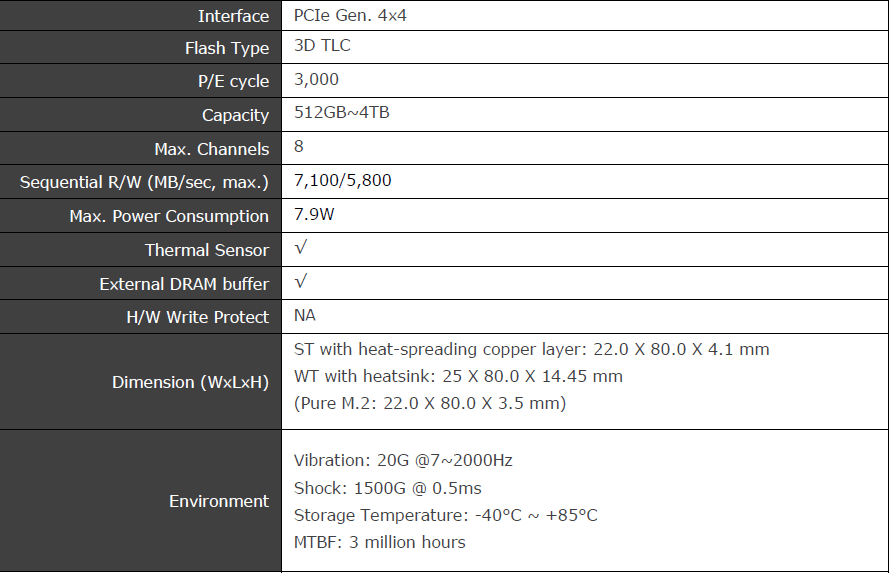 Innovativ Thermal Throttle Management teknologi sikrer både dataen og en stabil hastighed
Thermal Throttle Management udviklet til industrielt brug sikrer både dataen og en stabil hastighed i PCIe SSD'er fra Innodisk. Alle Innodisks PCIe SSD moduler har innovativ Thermal Throttle Management teknologi til industrielt brug.
Innodisks teknologi til håndtering af thermal throttling er lavet til industrielt brug, og imødekommer de behov der er her i modsætning til i consumer-grade enheder.
"For industrial applications, the fastest speeds don't always matter. Instead, developers prefer constant speeds that they can rely on. It is better if a process is always completed in 10 seconds than if it sometimes takes only 5 seconds and sometimes 20 seconds." - Innodisk.
Innodisks Thermal Throttle Management hæver eller sænkes antallet af kommandoer sendt til NAND Flash'en udfra deres algoritmes beregning af forskellen mellem den aktuelle og den ønskede temperatur. Samtidig sænkes hastigheden langsomt hvis max. temperaturen bliver nået - I stedet for at lave et hurtig fald i hastighed, som typisk ses i thermal throttle teknologi. Dermed giver Innodisks teknologi en mere stabil temperatur og færre store udsving i hastigheden.
Vil du vide mere om 4TG2-P, flash løsninger eller andet fra Innodisk? Vores erfarne rådgivere er klar til at hjælpe dig godt videre, så tag fat i os. Giv os et kald på telefonen, send en mail eller udfyld vores kontaktformular. Vi rådgiver og finder det rigtige til dig.
Se mere om SSD med 4. generation PCIe fra Innodisk her.
Se mere om vores samarbejde med Innodisk her.
Se et udvalg af industrielle produkter her.
Vi leverer specialtilpassede løsninger til industrielt brug. Hvis du vil høre mere om muligheder og løsninger inden for industrielle produkter, så tag fat i os. Vi har et tæt samarbejde med førende leverandører, og er klar til at hjælpe dig videre med den rette industrielle løsning.