Innodisk Edge Server SSD Solutions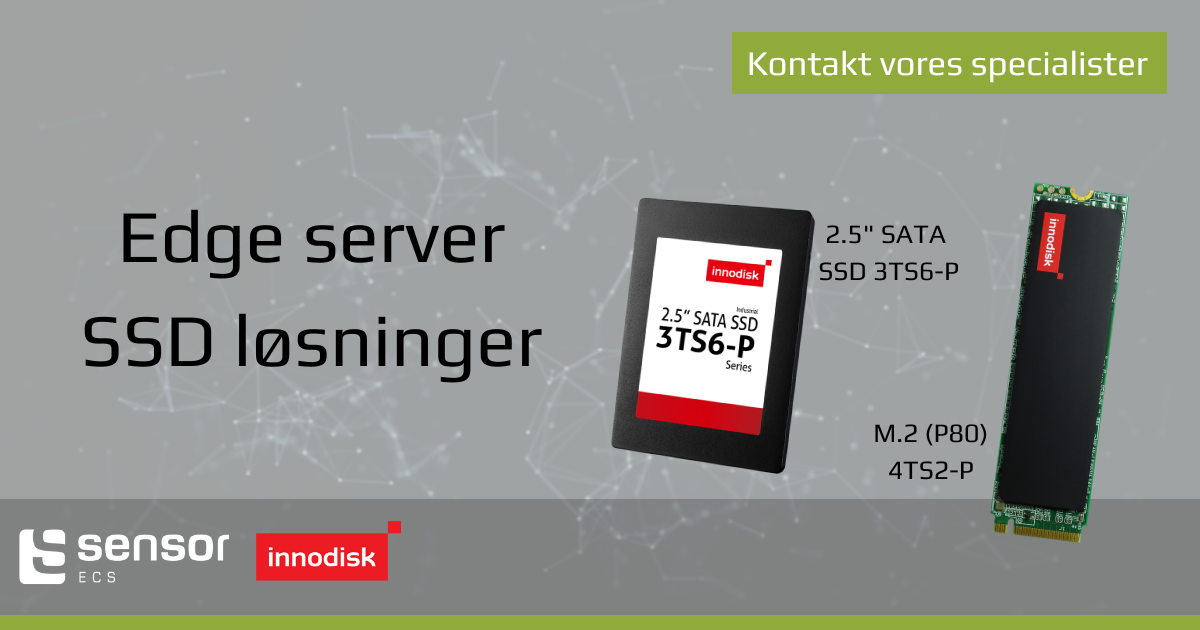 One of the most anticipated trends in IT and infrastructure is the demand for edge computing, fueled by technologies such as 5G, IoT and AI. The demand for processing, storing and integrating data close to where it is generated is steadily increasing. Edge computing with 5G is creating tremendous opportunities in every industry. It brings computation and data storage closer to where the data is generated, providing better data control at lower cost. It also enables faster insights and action, as well as continuous operations. By 2025, 50% of enterprise data will be processed at the edge, compared to only 10% today (source: IBM). According to verifiedmarketresearch.com, the global edge data center market will grow from $6.26 billion in 2020 to $36.32 billion in 2028.
Edge data centers are smaller facilities located near the zones where this data is directly processed. These data centers are managed remotely. They have the same components as traditional data centers but are much smaller. Yet they house mission-critical data, applications and services for edge-based processing and storage. These data centers provide cloud computing resources and cached content to end users. They are typically connected to a larger central data center or multiple data centers. An edge data center is one of many in a complex network that includes a central enterprise data center. By processing data and services as close as possible to the end user, edge computing allows enterprises to reduce latency. In an edge computing architecture, time-critical data can be processed at the point of origin by an intermediate server located in close geographic proximity to the user.
There are generally four different categories of edge infrastructure models. The Device Edge is built into or docked to the device. Outdoors, a typical application for this is a street lamp; indoors, it is a production plant. The Micro Edge consists of up to four racks or servers. It is located at the enterprise site such as retail stores, factories, IT closets or municipalities. A distributed edge data center is also a small data center with 5 to 20 racks and is also located at the enterprise site such as in a warehouse, at the site of a telecommunications network or in a public parking lot. A regional edge data center is a medium-sized data center with 20 or more racks. It is defined by a regional location.
Applications in the edge infrastructure are the edge device - usually a sensor where the data originates. The Edge Server or Edge DC (NAS) forms the hub and routes the data to the gateway - the network edge - usually over telecommunications channels. This construct reduces latency, provides faster response times, and enables faster and more comprehensive data analysis. Moving to an edge architecture has several challenges and requirements. Limited bandwidth must be considered and latency occurs. Devices must be reliable and provide security. In most cases, they need to be customized.
Innodisk supplies industrial SSDs specifically for use in edge servers. These work reliably and without performance loss over the entire lifetime. They come in a variety of form factors. They generally feature thermal management and are characterized by a high IOPS (Input/Output Operations Per Second) and a high DWPD (Drive Writes Per Day) value of 0.8 to 2.7. Customer-specific adaptations are possible at any time.
Innodisk's SATA III and PCIe (NVMe) interfaces feature high performance, low latency, and multiple I/O queues. The bandwidth for SATA III is 6Gb/s and the maximum value for NVMe modules is 64Gb/s. Their latency is about 3µs.
Reliability is ensured by end-to-end data protection and power failure protection. The uncorrectable bit error rate is only 10-16, and by integrating LDPC, the RAID ensures comprehensive data integrity while providing a wide range of RAID overhead protection. Security is ensured by hardware-based AES 256-bit encryption and TCG OPAL 2.0.
Several erase types have been developed for data security. The ATA Security Erase command deletes all user data blocks immediately. For the Quick Erase in a few seconds, a manufacturer's command is sufficient. The Security Erase complies with the military standard. The ATA command erases all data blocks in the process. The Revert Command resets the SSD to factory settings and the user data is randomized by changing the AES key at the same time. The ATA Cryptographic Erase command will be used to wipe the SSD clean of all user data and make it unreadable by changing the AES key.
The SATA 3TS6-P series are available with form factors ranging from 200GB to 3.2TB, and the SATA 3TS9-P series are available from 400GB to 6.4TB. The NVMe Gen 4x4 4TS2-P series are available with storage capacities from 400GB to 6.4TB.
M.2 (P80) 4TS2-P
Product Features:
PCIe Gen. 4x4, NVMe 1.4 for Edge Server field
Excellent data transfer speed
Stable sustained performance
Heat-spreading design
LDPC ECC engine supported.
Thermal Throttling management
2.5" SATA SSD 3TS6-P
Product Features:
2.5" SATA III solution for Edge Server field
High IOPS
iSMART disk health monitoring
AES-256 encryption
End to end data path protection
iData Guard for abnormal power failure
iCell technology for data protection
iPower Guard for protecting unstable start up and shut down
Vil du vide mere om Edge Server SSD moduler eller andet fra Innodisk? Vores erfarne rådgivere er klar til at hjælpe dig godt videre, så tag fat i os. Giv os et kald på telefonen, send en mail eller udfyld vores kontaktformular. Vi rådgiver og finder det rigtige til dig.
Se mere om vores samarbejde med Innodisk her.
Se et udvalg af storage til industrielt brug her.
Se et udvalg af andre industrielle produkter her.
Vi leverer specialtilpassede løsninger til industrielt brug. Hvis du vil høre mere om muligheder og løsninger inden for industrielle produkter, så tag fat i os. Vi har et tæt samarbejde med førende leverandører, og er klar til at hjælpe dig videre med den rette industrielle løsning.