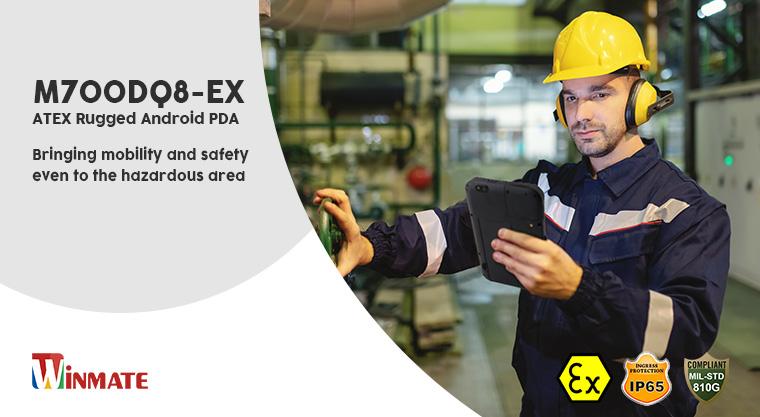 Increase Productivity - Rugged Android PDA
04-05-2022 08:00:00
Increase Productivity and Preserve Experts Legacy with Rugged Android PDA
Winmate releases M700DQ8-EX ATEX rugged Android PDA for potentially explosive Zone 2 application
Mobile working environments and mobile device requirements for the chemical, energy, oil, and gas industries are becoming increasingly critical. Furthermore, many experienced specialists in critical sectors are expected to retire soon. Simultaneously, there is a scarcity of qualified junior employees to fill the voids. As a result, fewer workforces must deal with the same or even more work. Effortless and meticulous electronic data collection and documentation are consequently critical. The compiled data can evaluate or improve the process and preserve the experts' experience.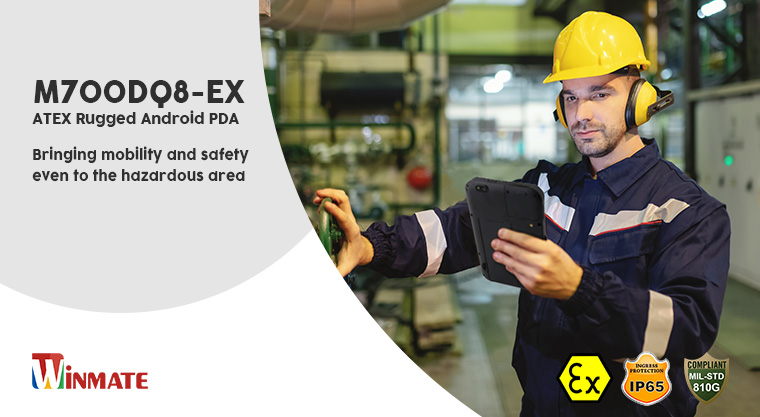 Mobile Makes You Independent

In areas with dangerous emissions, protection functions like a call to the emergency and rescue services that can be automatically sent in a crisis are essential. And these fundamental advantages also speak in favor of mobile devices:
Rapid decision making through direct communication possibilities,
Employees no longer have to intervene mechanically and thus physically during measurement and control, resulting in a significant reduction in the error rate and time savings during data collecting through digitized operations,
Increased efficiency and cooperation of staff assignments without location-related functional constraints,
Increased safety as the proper decision-making is made based on the availability of accurate information.
Winmate, a rugged computing industry leader, offers rugged computing solutions for use in Zones 2 or Class 1 Division 2, whereby comprehensive certifications guarantee the worldwide use of the devices.

Winmate's new 7" Android ATEX rugged android PDA powered with Qualcomm® Snapdragon™ 660, Octa-core up to 2.2 GHz. The M700DQ8-EX supports comprehensive wireless connectivity and sensors to assist and keep workers connected, even in the most remote locations. Also, it features a 7-inch TFT panel with direct optical bonding and a user-friendly projective capacitive touch screen.

Long-Lasting Power
The new enhanced-capacity battery option for the M700DQ8-EX rugged android PDA provides considerable performance improvements over prior models. Increase the battery life on a single charge to up to 20 hours* of operation.
*Measured at dimming LCD brightness. The actual duration varies depending on the usage conditions or when an external device is attached.

Ready To Move, Anytime
The M700DQ8-EX has passed the US military standard 810G standard against vibration, shock, and 5 ft. drop. Also, with the IP65 rating, it is protected against dust and water splash. Easily dock and undock the M700DQ8-EX to vehicle dockings or use it with various optional accessories anytime and everywhere.
User-friendly Design
The M700DQ8-EX is designed for convenience in a hazardous environment. Its thin and light exterior, with the optional strap, make it very easy to carry. Its 7" TFT panel with optical bonding technology makes it easy to read and use via finger, glove, or stylus, in sunlight and rain.
Winmate 7" M700DQ8-EX - Ex Proof Rugged Android PDA
Qualcomm® Snapdragon™ 660, Octa-core up to 2.2 GHz
7 inch, 1280 x 720 TFT Panel
Sunlight readable display with direct optical bonding
Supports Android 9.0 OS
IP65 waterproof and dustproof
ATEX Zone 2 application certification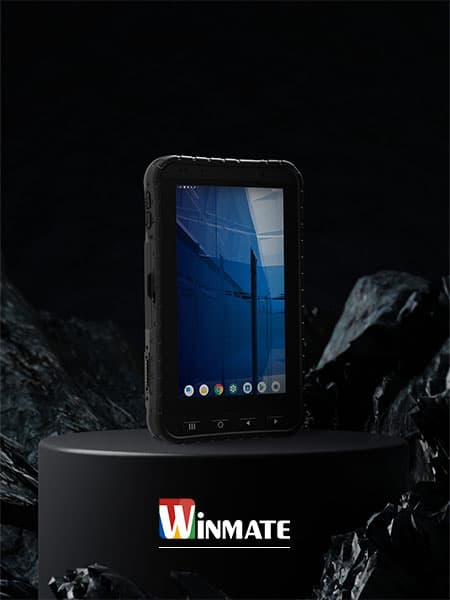 Kontakt vores specialister i dag - klik her
Vil du vide mere om hårdføre PDA'er, tablets eller andre IT produkter til industri - eller bare noget fra Winmate? Vores erfarne rådgivere er klar til at hjælpe dig godt videre, så tag fat i os. Giv os et kald på telefonen, send en mail eller udfyld vores kontaktformular. Vi rådgiver og finder det rigtige til dig.
Se flere industrielle og hårdføre produkter her.
Vi leverer specialtilpassede løsninger til industrielt brug. Hvis du vil høre mere om muligheder og løsninger inden for industrielle produkter, så tag fat i os. Vi har et tæt samarbejde med førende leverandører, og er klar til at hjælpe dig videre med den rette industrielle løsning.
Se mere om vores samarbejde med Winmate her.
Winmate er kendt for deres særligt hårdføre produkter, der fx tæller computer løsninger til køretøjer, produktionsanlæg, industrielle skærme, marine computere, militær panel pc'er, tablets til hospitaler og meget andet.