How to Choose the Best Rugged Laptop
Choose the Best Rugged Laptop for Tough Jobs
07-03-2022 08:00:00
Valget af hårdfør laptop skal være det helt rigtige - se her hvad du skal overveje
Når det kommer til forskellige industrielle brancher, er det ofte udfordrende miljøer der arbejdes i. Det stiller naturligt nogle helt særlige krav til de enheder der benyttes, og det gælder også de laptops der bruges. Typisk skal de være til at transportere nemt, hårdføre i designet så de kan modstå fx tab eller at blive brugt udendørs, og så skal skærmen selvfølgelig også være letaflæselig i forskellige situationer.
Herunder har Winmate samlet en guide til valget af den rigtige hårdføre laptop.
Vi hos Sensor ECS er også klar til at rådgive og finde de rigtige enheder til netop dit behov.
How to Choose the Best Rugged Laptop for Tough Jobs
Do you use your laptop in a wet and dusty place or even work outdoor in the field? It would be best if you had a rugged laptop. Let us guide you to find the best one.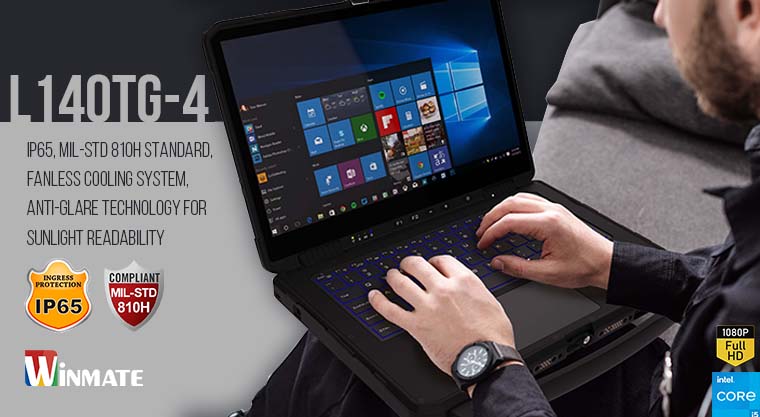 Not all work can be done in a comfortable and safe office: some need to thrive in hectic, demanding, or dangerous environments. But finding a rugged laptop durable enough to keep up with the job is tricky. Drops, water, and even dust can damage a regular notebook. Yet without your IT device, work grinds to a halt until you replace it.
Choosing the right rugged laptop at the start can keep you in the long run. Military and public-safety-grade laptops are ideal for demanding use. But you need to know what to look for.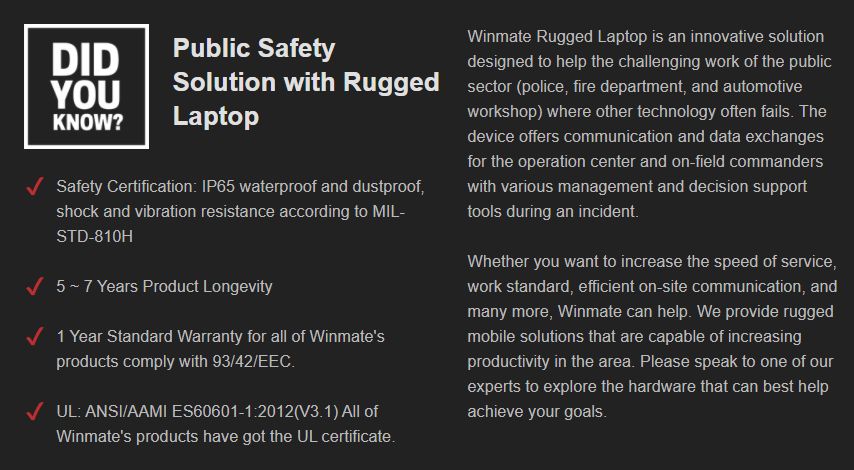 Weight and Size of Rugged Laptops
Portability can be a deal-breaker for tech. Nobody wants to haul a ponderous computer around all day. If additional protection and large screen size are essential for your work, extra weight was worth it. On-field teams like military and public safety personnel need a lightweight, functional, portable, and rugged laptop.
The Winmate L140TG-4 gives you 14 inches of screen space, IP65, and MIL-STD-810H toughness at 5.6lbs (2.55kg). That's pretty light for a rugged laptop of this size than the other competitors.
Anti-Glare Screen to Save Your Eyes
Screen glare under the sunlight can hinder work, ranging from unclear visual to health issues like eye fatigue and headache. Construction, marine, and logistics businesses work outside in all weathers. So anti-glare technology is a must. No squinting means more productivity and fewer wrinkles.
Readability relies on high-resolution as well as anti-glare. Staring at a low-resolution screen with a low refresh rate all day can lead to eye strain. So, choose a laptop with at least a 1920 x 1080 full HD screen.
Securing Your Rugged Laptop
Whether you work in healthcare, logistics, media, or any other industry, you will want to keep your data private. Without proper security, you risk your sensitive data.
Winmate Rugged Laptop comes with encryption, secure locking, and Trusted Platform Module (TPM). TPM secures your hardware with cryptology, and it ensures safety from unauthorized access to your hard drive.
A Kensington lock prevents physical theft of your device, and it anchors your laptop to a table or secure point with a cable looped through a security slot. Professionals have used it due to simple and effective since the mid-1980s.
Smart Card Reader and Removable SSD
Flexible optional storage: critical store data and optional 2nd removable M.2 solid-state drives (SSD) for up to 4TB of total storage.
Compatibility and Performance
Whatever your work, either analyze vast datasets, render designs, transfer files. The laptop has to have a fast processing speed. Winmate Rugged Laptop comes with a quad-core processor with speeds of 2.40GHz up to 4.20GHz will suit most tasks. Also, upgrading RAM from 8GB to 32GB is needed to increase work efficiency.
A touchscreen can benefit certain types of work. Winmate Rugged Laptops are double as tablets with multitouch gestures, pen, and glove functions for added flexibility. Work everywhere with tablet or laptop all in one device.
With the above-mentioned, connectivity is becoming crucial these days. High-speed WiFi and 4G LTE will keep you connected everywhere. Furthermore, logistics, military, and vehicle-mounted industries can use GNSS to locate personnel or map directions.
Flexibility and Freedom
Flexible dual hinges allow the L140TG to transform from a laptop into a tablet computer. They are stiff enough to prevent the screen from wobbling when you tap on the glass, yet flipping the panel around to transition into tent or tablet mode doesn't require much force. It strikes the right balance between sturdy and practical.
Winmate Rugged Laptop is an innovative solution designed to help the challenging work of the public sector (police, fire brigades, and SARS services) where other technology often fails. The device offers communication and data exchanges for the operation center and on-field commanders with various management and decision support tools during an incident. Whether you want to increase the speed of service, work standard, efficient on-site communication, etc., Winmate can help. We provide rugged mobile solutions that can increase productivity in the area.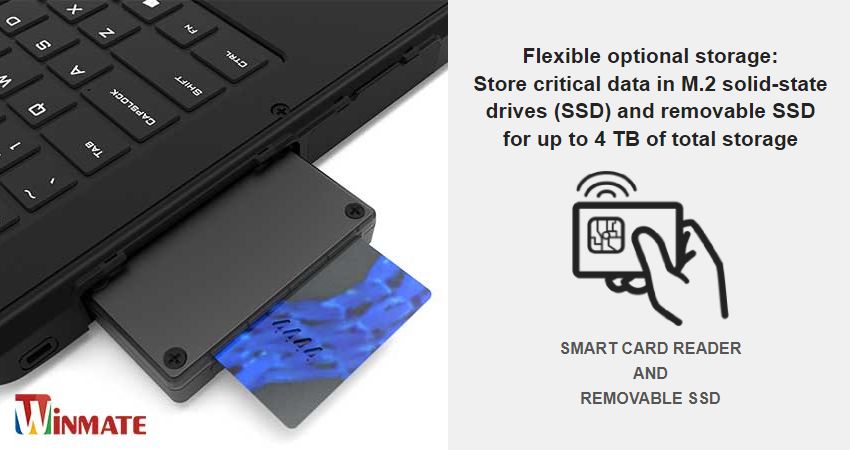 Power Your Tough Tech
Power and long battery lives are needed for remote or on-site works. There's nothing worse than running out of power mid-task in the field, with no plug sockets for miles. Dual-battery designs give you enough capacity for a full day of work. Power-save modes and dimmable LCD screens save power. But the ability to swap batteries is a game-changer.
The Winmate L140TG-4 has hot-swappable dual batteries. So you can switch when power gets low, and it keeps you moving even when off the grid. And if you find the mains, you can charge one battery while you work from the other.
Still, Standing After All That?
We hope our guide gives you the information you need to choose a rugged laptop. It's easy to forget how much we put our devices through. Choosing the toughest one can be an excellent work investment as we use them every day. As you wish that your laptops, tablets, and mobile devices can handle any task you throw at them, from public safety to transport to food and hygiene, we supply tough tech tools so you can get the job done.
Winmate Rugged Laptop L140TG-4 Series
11th Gen. Intel® Processor Family Tiger Lake Processor
Fanless Cooling System
14" 1920 x 1080 LED panel with direct optical bonding
Anti glare technology for sunlight readability
Flip design for quick switching between laptop and tablet modes
Dual battery with hot swappable design for whole day work
Expansion slot supporting optional 2nd removable SSD and smart card reader
Kontakt vores specialister i dag - klik her
Vil du vide mere om hårdføre laptops, tablets eller andre IT produkter til industri - eller bare noget fra Winmate? Vores erfarne rådgivere er klar til at hjælpe dig godt videre, så tag fat i os. Giv os et kald på telefonen, send en mail eller udfyld vores kontaktformular. Vi rådgiver og finder det rigtige til dig.
Se flere industrielle og hårdføre produkter her.
Vi leverer specialtilpassede løsninger til industrielt brug. Hvis du vil høre mere om muligheder og løsninger inden for industrielle produkter, så tag fat i os. Vi har et tæt samarbejde med førende leverandører, og er klar til at hjælpe dig videre med den rette industrielle løsning.
Se mere om vores samarbejde med Winmate her.
Winmate er kendt for deres særligt hårdføre produkter, der fx tæller computer løsninger til køretøjer, produktionsanlæg, industrielle skærme, marine computere, militær panel pc'er, tablets til hospitaler og meget andet.