Extended Product Lifecycle with Modular Design C1D2 Panel PCs
Det modulære design giver fleksibilitet.
15-08-2022 13:00:00
Extended Product Lifecycle with Modular Design C1D2 Panel PCs
Industrial digitalization in hazardous locations with Winmate C1D2 Panel PCs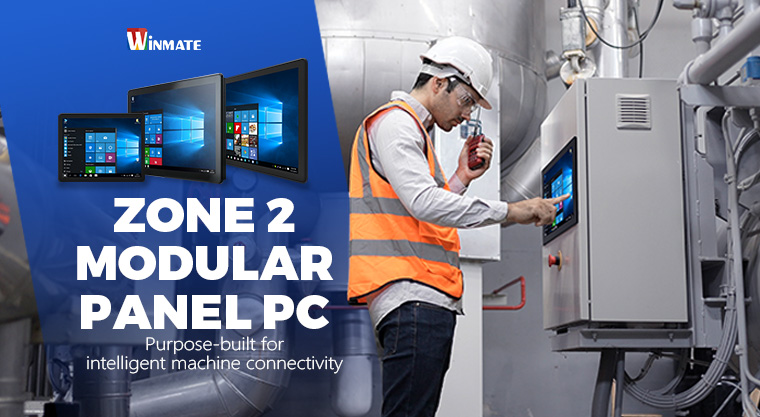 Winmate's Class 1 Division 2, C1D2 Panel PCs are designed to operate safely and reliably in rough and dangerous environments like chemical manufacturing and oil gas. Therefore, they are safe to use in hazardous environments, where combustible dust and flammable gas or vapors are present. The units are made with industrial-grade durable components and can run in a wide range of operational temperatures.
Modular Design Certified for Hazardous Areas
Winmate M series ATEX grade Panel PCs feature a modular design, which allows the computing modules to be interchangeably combined with various display modules to create flexible computing solutions. Class 1 Division 2, ATEX Zone 2, IECEx certified, and front IP65 / NEMA 4 compliant are built for environments with flammable or explosive vapors or gasses, such as in the oil and gas industry or on a chemical manufacturing line.
Signature True Flat Screen with Edge-to-edge Design
The glass cover protects the device from scratch and reduces the gap for a possible accumulation of dust and liquid. The true-flat surface also gives the device a slim and elegant appearance beyond other standard industrial computers.

Aluminum Enclosure with Fanless Design
M-series C1D2 computer comes in anti-corrosion treatment housing with a fanless design for superior energy efficiency, quiet operation, and an extended product lifecycle. It is rated to IP65 for water and dust resistance while keeping a compact and narrow bezel design, suitable for use in wet and dusty environments.
Tag fat i os til en snak
Kontakt vores specialister i dag - klik her
Vil du vide mere om Winmate, industrielle Panel PC´er eller andre løsninger til industri? Vores erfarne rådgivere er klar til at hjælpe dig godt videre, så tag fat i os. Giv os et kald på telefonen, send en mail eller udfyld vores kontaktformular. Vi rådgiver og finder det rigtige til dig.
Se flere industrielle produkter her.
Vi leverer specialtilpassede løsninger til industrielt brug. Hvis du vil høre mere om muligheder og løsninger inden for industrielle produkter, så tag fat i os. Vi har et tæt samarbejde med førende leverandører, og er klar til at hjælpe dig videre med den rette industrielle løsning.
Se mere om vores samarbejde med Winmate her.
Winmate er kendt for deres særligt hårdføre produkter, der fx tæller computer løsninger til køretøjer, produktionsanlæg, industrielle skærme, marine computere, militær panel pc'er, tablets til hospitaler og meget andet.