Expand your Application Potential with AAEON's new ATX-Q670A
10-11-2022 08:00:00
Expand Your Application Potential With AAEON's New ATX-Q670A
Providing double the system memory, industry-leading expansion, and enhanced security features, AAEON's ATX-Q670A offers unique yet comprehensive solutions.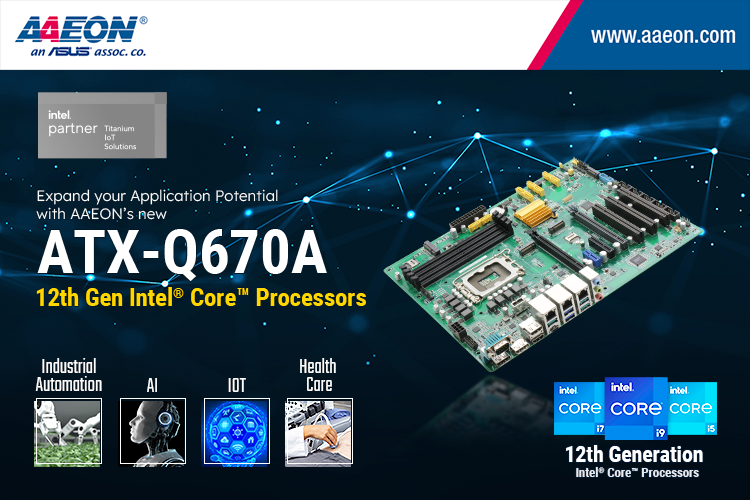 As its newest industrial motherboard, the ATX-Q670A demonstrates AAEON's commitment to innovation. Powered by 12th Generation Intel® Core™ Processors (formerly Alder Lake-S), the ATX-Q670A incorporates high-performance computing with AAEON's precision design to introduce generational improvements in system memory, expansion, and security.
Supporting four dual-channel DDR5 DIMMs, alongside two PCIe [x16] expansion ports and a bootable USB port feature, the ATX-Q670A is industry-leading in both performance and market potential, enabling applications across the healthcare, industrial automation, and IoT spheres.

The ATX-Q670A represents a breakthrough in ATX motherboard technology, being the first of its kind to support DDR5, offering a 50% increase in bandwidth and 20% decrease in power consumption. Additionally, the ATX-Q670A boasts an elite storage architecture, featuring eight SATA III (6.0 Gbps) ports, double its nearest competitor; along with two M.2 M-Keys.
Consequently, the ATX-Q670A offers the perfect foundation for IoT applications, with a combination of the highest maximum SATA performance and the very fastest SSD. These improvements correlate to higher I/O speeds and data rates, which are imperative given the growing demands of smart industry applications under the IoT umbrella.

The ATX-Q670A's unique expansion options provide versatile industrial solutions, offering two PCIe [x16] slots alongside both a PCIe [x4] and PCIe [x1] slot, in addition to a further three PCI slots.
Furthermore, its two PCIe [x16] slots support two graphic cards, enabling a range of functions from video capture to AI calculation, suited to visually-orientated applications in conjunction with the ATX-Q670A's four independent 4K@60Hz resolution display capability.
Powered by the latest Intel 12th Generation Core Processors, such a wealth of expansion options pair with an impressive I/O to give the ATX-Q670A the power and precision needed for sophisticated industrial automation applications.

Improvements in I/O speeds and data rates have the capacity to process a greater volume of data for a wider variety of applications. Therefore, the ATX-Q670A is equipped with more stringent, reliable security features.
A bootable USB feature protects a rich rear I/O comprised of three USB 3.2 Gen 2 and two USB 3.2 Gen 1 ports, along with one USB Type-C port. This can prevent bootable programs from accessing your system via a USB device.
With enhanced security, applications which require the handling of more sensitive data, such as those in the healthcare industry, are better protected while still benefiting from the ATX-Q670A's excellent connectivity.
Vil du vide mere om ATX-Q670A, industrielle motherboards eller andre løsninger fra AAEON? Vores erfarne rådgivere er klar til at hjælpe dig godt videre, så tag fat i os. Giv os et kald på telefonen, send en mail eller udfyld vores kontaktformular. Vi rådgiver og finder det rigtige til dig.
Se mere om vores samarbejde med AAEON her.
Se et udvalg af boards til industrielt brug her.
Se et udvalg af andre industrielle produkter her.
Vi leverer specialtilpassede løsninger til industrielt brug. Hvis du vil høre mere om muligheder og løsninger inden for industrielle produkter, så tag fat i os. Vi har et tæt samarbejde med førende leverandører, og er klar til at hjælpe dig videre med den rette industrielle løsning.