Embedded Peripheral - EGPL-T101
Verdens første M.2 10GbE LAN modul
06-12-2021 16:00:00
Verdens første M.2 10GbE LAN Modul - EGPL-T101
Denne indlejrede perifere enhed fra Innodisk har et lille datterkort med højhastigheds shielding cable.
- Input I/F: PCI Express 3.0 x 2
- Output I/F: Single 10 GbE LAN
Selvfølgelig med 30μ" golden finger, der sikrer holdbarheden også i industrielle miljøer, og den generelt høje kvalitet der kendetegner Innodisks produkter.
Se flere specifikationer herunder. Kontakt vores specialister, hvis du vil vide mere eller skal bruge en industriel storage løsning.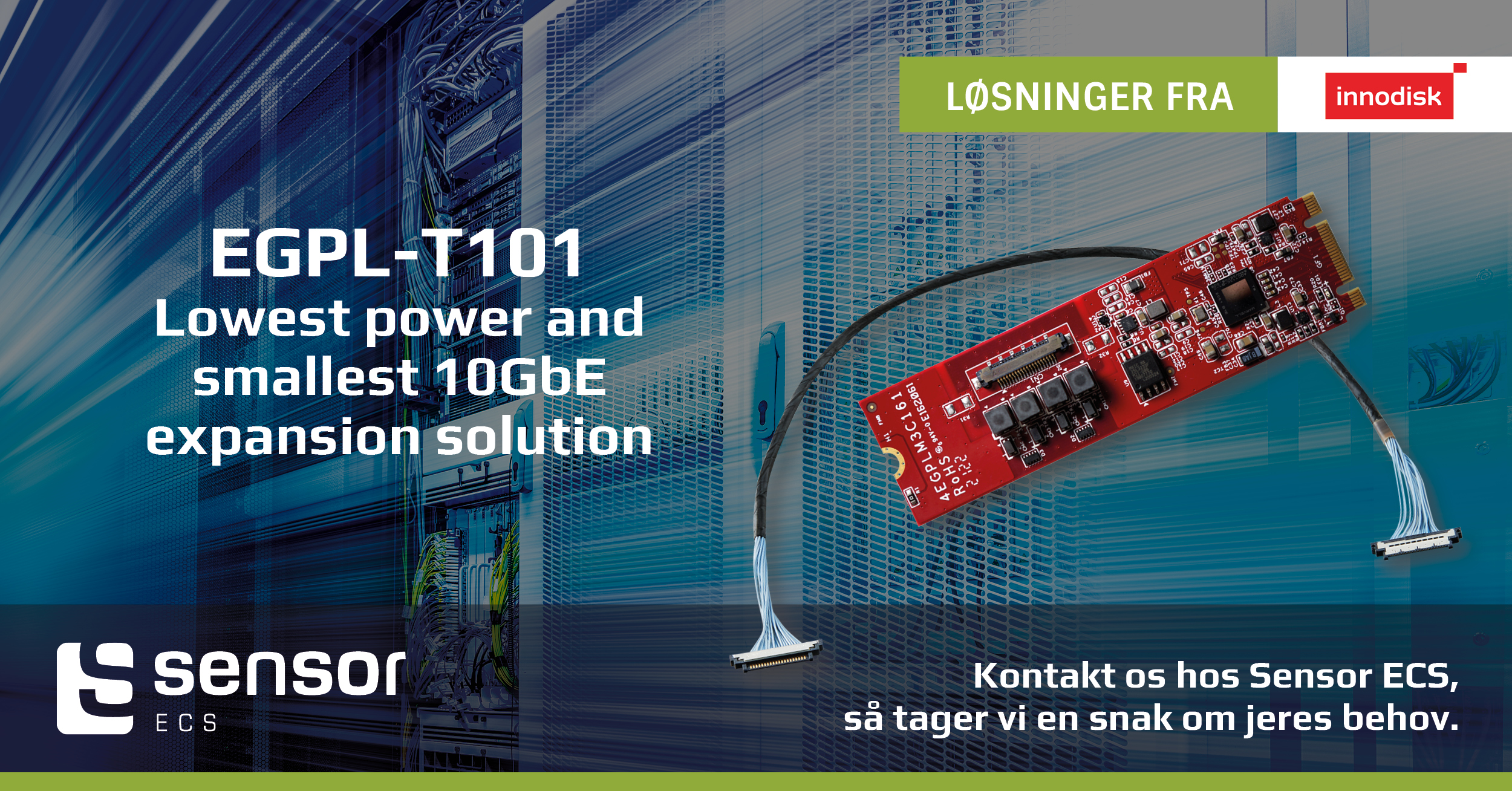 Imødekommer de stigende krav i industrien
Sådan beskriver Innodisk selv deres nye produkt:
In a digitized and technology-powered world, demand for high-speed Ethernet is rising in tandem with Industry 4.0, the installation of advanced software, and cloud computing.
However, as the traditional 1GbE LAN can no longer fulfill the needed speed, the increasing transfer rates do create numerous opportunities for those crucial industrial solutions in markets and scenarios ranging from surveillance to gaming, networking, and industrial uses.
Innodisk has released the world's first M.2 10GbE expansion solution to meet the demand for increased speed and reduced size, high-speed LAN solutions.
The EGPL-T101 M.2 2280 10GbE LAN module is the smallest 10GbE expansion solution with low-latency and lowest power. It is also 10x faster than Gigabit Ethernet and features flexible integration and excellent compatibility with existing network infrastructure for backward compatibility.

Se nærmere om produktet


Product Features
Marvell AQtion Ethernet Controller
Support 10G/5G/2.5G/1000M/100M/10M LAN speed
Lowest power and smallest 10GbE expansion solution
Support x2/x1 PCI Express with Gen3/Gen2
Tiny daughter board with high speed shielding cable
Complies with EN61000-4-2 (ESD) Air-15kV, Contact-8kV
Operation temperature 0°C to +55°C support
30μ" golden finger, 3-year warranty
Industrial design, manufactured in Innodisk Taiwan
Can be used in applications such as industrial/embedded, Casino gaming, Surveillance, Networking and more.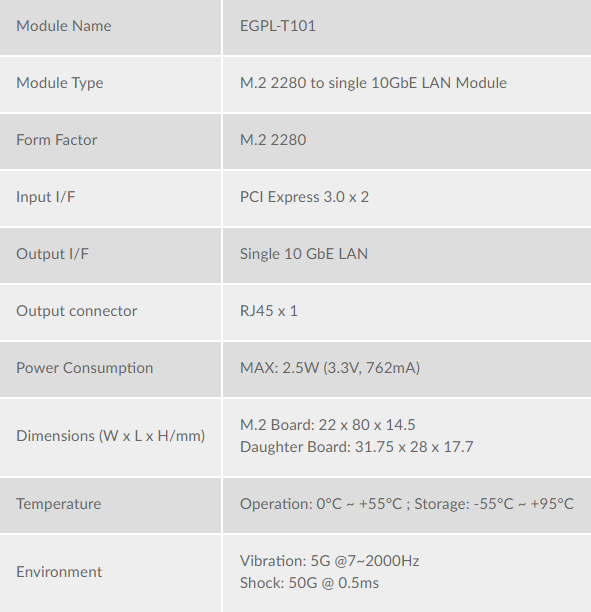 Kontakt vores specialister i dag - klik her
Vil du vide mere om løsninger fra Innodisk, industriel hukommelse og lagring, eller andre muligheder for at optimere industrielle processer? Vi er klar til at hjælpe dig videre - kontakt os endelig.
Se et udvalg af storage og hukommelse til industri produkter her.
Vi leverer specialtilpassede løsninger til industrielt brug. Hvis du vil høre mere om muligheder og løsninger inden for industrielle produkter, så tag fat i os. Vi har et tæt samarbejde med førende leverandører, og er klar til at hjælpe dig videre med den rette industrielle løsning.