Driving Innovation In Outdoor Robotics With The RBX-I2000
17-10-2022 13:00:00
Driving Innovation In Outdoor Robotics With The RBX-I2000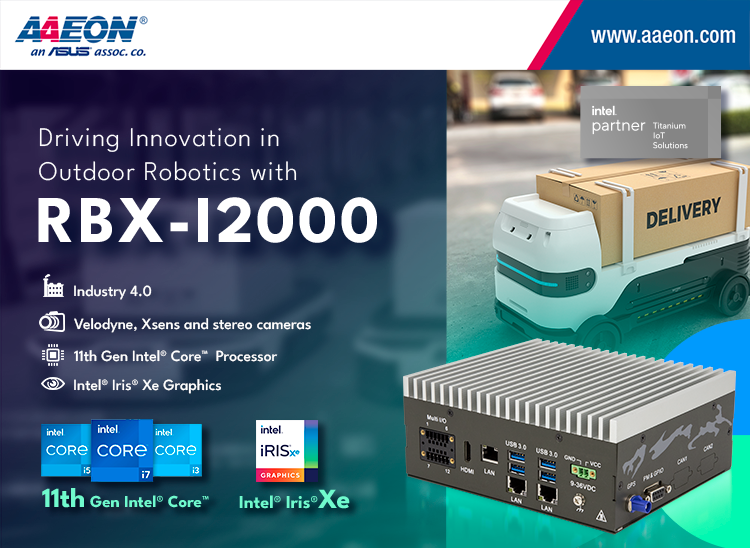 With integrated time synchronization and optimized positional accuracy, the RBX-I2000 is changing what's possible in outdoor robotics.
Introducing substantial innovations to outdoor autonomous mobile robot technology, the new RBX-I2000 robot controller expands what's possible in the era of Industry 4.0.
The first robot controller with integrated time synchronization capabilities, the RBX-I2000 offers precise, centimeter-level positional accuracy in real-time by providing multichannel synchronization with Velodyne, Xsens and stereo cameras.
Equipped with the 11th Generation Intel® Core™ i7/i5/i3/Celeron® Processor SoC, the RBX-I2000 also provides fast, accurate algorithmic processing and Intel® Iris® Xe Graphics for a more sophisticated and versatile device.
Unique Hardware-Based Time Synchronization
The RBX-I2000 is the only robot controller that contains integrated, hardware-based time synchronization capabilities, with an I/O equipped with four 1PPS and ToD output ports to improve sensor fusion on two connectors.
As a result, the RBX-I2000 has a substantial advantage over devices relying on software-based time synchronization, reducing the controller's latency from 100 ~ 200 microseconds to approximately 20 nanoseconds.

Centimeter-Level Positional Accuracy
With sophisticated 4-channel sync ports, the RBX-I2000 is able to provide more precise positional accuracy data via a wider range of sensors, with each port supporting two channels of 9600bps and 115200bps.
This, along with T-BOX time synchronization and built-in Xsens MTi-670 9-axis IMU support allows the robot controller to utilize Movella™ Xsens RTK to produce centimeter-level positional data, along with signal data from the RBX-I2000's integrated 3D LIDAR SLAM script.

Exceptional Processing Power and Graphic Sophistication
Supporting both hardware and software-based time synchronization features, multiple sensors, and a comprehensive interface of ethernet, USB, RS-232/485, and GPIO ports; the RBX-I2000 requires a sophisticated yet powerful CPU.
With the 11th Generation Intel® Core™ i7/i5/i3/Celeron® Processor SoC, the RBX-I2000 is armed with 4 cores, 8 threads, and Intel Iris Xe Graphics, providing the computing power to support its time and positional accuracy features along with complex algorithm processing.

Vil du vide mere om den nye RBX-I2000 robot controller eller andet fra AAEON? Vores erfarne rådgivere er klar til at hjælpe dig godt videre, så tag fat i os. Giv os et kald på telefonen, send en mail eller udfyld vores kontaktformular. Vi rådgiver og finder det rigtige til dig.
Se mere om vores samarbejde med AAEON her.
Se et udvalg af industrielle produkter her.
Vi leverer specialtilpassede løsninger til industrielt brug. Hvis du vil høre mere om muligheder og løsninger inden for industrielle produkter, så tag fat i os. Vi har et tæt samarbejde med førende leverandører, og er klar til at hjælpe dig videre med den rette industrielle løsning.