BOXER-6641 - Adgangskontrol i offentlig transport
BOXER-6641 fra AAEON er brugt i en skræddersyet og skalérbar løsning til adgangskontrol i offentlig transport.
31-05-2022 12:00:00
Ensuring Safe And Flawless Access Control In Public Transport Systems
BOXER-6641

To accommodate the increasing volume of traffic and passengers, authorities of public transport systems like metro, subway and railway, are seeking safer and smarter entrance control solutions to replace legacy systems. The optimal solutions must be customized and scalable to meet the safety and efficiency requirements in various scenarios to ensure automatic fare collection and emergency evacuation.
With the increasing number of commuters, especially during rush hours, public transport managements demand a more secure and faster solution to filter out passengers without valid fare and prevent tailgating attempts, while working compatibly with card readers, biometric detection systems, gate opening or closing sensors, infrared sensors, and disability friendly requirements for flawless and safe entrance or exit.
A subway authority in India has recently contacted AAEON for a scalable customization of BOXER-6641 to serve as a compact, high-performance, and budget-friendly access control system to meet the requirements of high-flow capacity in India.
Challenges
High-demand for customization

An efficient access control system in a metro station for high-capacity flow requires sophisticated integration with multiple industrial-grade subsystems, such as infrared sensors, automated gate opening/closing sensor, and robust display panels. In addition, since the gate design must allow easy entrance/exit for wheelchairs and baby carts, the gates are designed in smaller footprint and only provide limited space to install the access control system. Therefore, the ideal system must be compact and able to connect with multiple subsystems within restrained space.
Complicated integration with existing devices

To establish a secure and robust access control in metro stations, it requires multiple devices to work together in order to prevent tailgating, and passing with invalid ticket or token, while assuring full compatibility with NFC or RFID card reader devices, rugged LED display panel, gate barrier control sensors, and infrared sensors to allow safe and fast access control for mass transit.
Solution/Why AAEON
Flexibly Customizable and Budget-Friendly

Deployments in metro stations require a high degree of customization to meet the application environment, and AAEON has the proven capability and flexibility to meet such requirements. Unlike other Box PCs in the market that requires modular expansions to meet the required functionality, which results in much higher costs and larger form factor, AAEON adopted its long-experienced customization services to build the optimal system with desired feature configurations for public transit authorities in India, without changing the form factor and adding costs.
In addition, access control requires powerful compute to function flawlessly for travelers, and BOXER-6641 is powered by the 8/9th Generation Intel® Core™ and Xeon® processor family (formerly Coffee Lake) to offer the high-performance and open architecture for faster and convenient deployments. The fanless design also makes it ideal for deployments in metro stations as fans require regular maintenance or replacements.
Optimally Integrated

Aside from the high compute performance and open architecture, BOXER-6641 can be scalably customized to offer up to ten serial COM ports to work compatibly and seamlessly with multiple industrial-grade subsystems or devices in metro stations, for example, infrared sensors that detect if passengers are passing through, gate locking sensors that detect invalid ticket, token or card, NFC/RFID card reader that detect travelers' card information, and rugged LED display panel that shows card or token status.
In terms of connectivity, BOXER-6641 comes with four Ethernet ports to offer reliable network connections, and eight USB ports (USB 3.2 Gen 1/USB 2.0 by models) for connections with additional peripherals.
Impact
With BOXER-6641 deployed, the metro stations in India can maximize their flow capacity and flawlessly regulate the flows of passengers.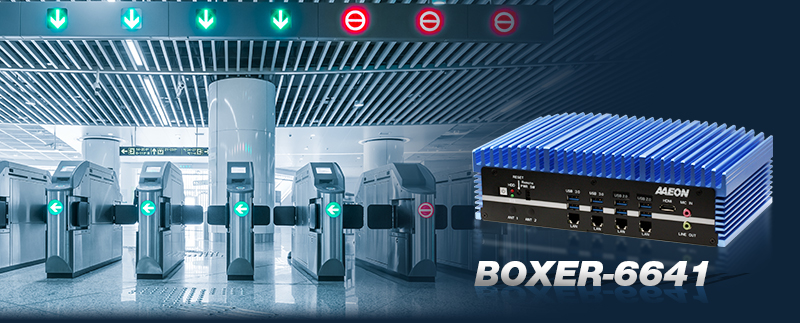 Kontakt vores specialister i dag - klik her
Vil du vide mere om dette produkt eller andet fra AAEON? Vores erfarne rådgivere er klar til at hjælpe dig godt videre, så tag fat i os. Giv os et kald på telefonen, send en mail eller udfyld vores kontaktformular. Vi rådgiver og finder det rigtige til dig.
Se mere om vores samarbejde med AAEON her.
Se et udvalg af industrielle produkter her.
Vi leverer specialtilpassede løsninger til industrielt brug. Hvis du vil høre mere om muligheder og løsninger inden for industrielle produkter, så tag fat i os. Vi har et tæt samarbejde med førende leverandører, og er klar til at hjælpe dig videre med den rette industrielle løsning.