Avalue - Multi-Touch Panel PC. OFT-07W33
Se mere om den nye enhed her.
11-08-2021 16:00:00
Avalue har tilføjet den nye Open Frame Multi-Touch Panel PC OFT-07W33
Den populære Open Frame OFT serie er blevet udvidet med en 7" Panel PC. Den kompakte OFT-07W33 er ideel til for eksempel spillemaskiner, automatisering i fabrikker, digital signatur, interaktive kioske og meget andet. Med stor fleksibilitet i design og muligheder for specialtilpasning, er den klar til at imødekomme krav i high-end industrielle løsninger.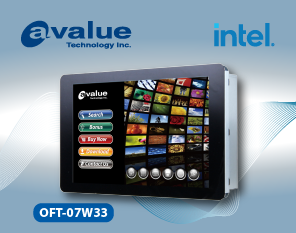 Sådan beskriver Avalue den nye Panel PC
Avalue has added a 7-inch embedded multi-touch tablet OFT-07W33 to its best-selling open-frame OFT series, which allows for more flexibility and customization in applications, and enables a wide range of usage scenarios. Building on its legacy of open frame architecture for easy installation and maintenance, and highly flexible design, the OFT-07W33 is a boost to the existing range of applications with usage expanding from gaming machine, digital signage, factory automation, interactive multimedia kiosk and HMI to medical analyzers.
The OFT-07W33 uses Intel® Celeron® processor N3350/J3455 (Apollo Lake), and is compatible with Windows, Linux and Android operating systems. It has a memory capacity of 4GB DDR3L which can be expanded up to 8GB DDR3L 1866MHz, and provides a diverse range of I/O interfaces, including 2 x GbE LAN, 1 x RS232 and 4 x USB3.1, providing high scalability according to user's requirements.
Furthermore, the OFT-07W33 supports multi-touch and glove touch capability, and is operable under the sun. Not only does it satisfies a wide range of customization requirements but is also suitable for high-end embedded industrial applications due to its outstanding computing power.
Et nærmere kig
De vigtigste specifikationer:
7" HD Open frame PCAP Touch panel PC
Various mounting kits compliance with OFT series
Onboard Intel® Pentium®/Celeron®/Atom™ BGA Processor N3350/J3455
Default with 4GB DDR3L memory, Max. Up to 8GB DDR3L 1866MHz
7" HD Multi Touch Screen Design
1 x HDMI
2x GbE LAN, 4 x USB 3.1 (Gen1 5Gbps), 1 x RS232(DB9 COM port)
1 x RS232 (JCOM2 by header, RS232/RS422/485 by jumper), 1 x 8bit GPIO
Wi-Fi & BT (option)
Kontakt vores specialister i dag - klik her
Hvis du vil vide mere om mulighederne for en industriel skærm, Avalues produkter eller andre industrielle løsninger, så tag endelig fat i os.
Du kan også se mere om panel pc her.