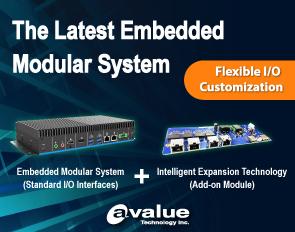 Avalue is Perfecting Industrial Control by Speeding up Edge-Device Connection
Avalue Technology Inc. endeavors to provide a complete range of smart retail, smart healthcare, smart manufacturing, smart transportation and embedded solutions.
03-07-2023 10:00:00
Avalue Technology Inc., a global industrial PC solution provider and a Titanium member of the Intel® Internet of Things Solutions Alliance, endeavors to provide a complete range of smart retail, smart healthcare, smart manufacturing, smart transportation and embedded solutions. In the ever-changing IPC market, how to accelerate development and introduction of new systems has become critical to meet the diverse and extensive needs derived from the IoT technology. Based on the concept of modularity, Avalue's industrial-control-grade EMS-EHL is a highly flexible scalability solution as a combination of standardized embedded systems and the intelligent expansion technology (IET). It accommodates dynamic market needs with a more handy and adaptive approach that facilitates fast deployment of core architectures for smart cities, smart manufacturing, smart retail, as well as applications in agriculture, fishery, and animal husbandry, and enables high-freedom, flexible control in terms of redundancy dispatch thereby reducing expenditure on construction while seamlessly linking various industrial control applications.
Following its success in advanced EMS-TGL embedded systems, Avalue now introduces EMS-EHL as an entry-level variant of the industrial-control-grade forerunner. The new series combines a standard, board-mounted embedded modular system (EMS) with innovative IET modules, making I/O customization faster and more flexible. Users may use the on-demand IET modules to build prototypes, scale out their systems, or reproduce any existing architecture, thereby minimizing repeated engineering and reducing risks brought about by lumpsum investments. Avalue's rugged, embedded EMS-EHL systems are equipped with Intel® Elkhart Lake Atom™ x6425E (for wide-temperature models) or Celeron J6413 (for other models), which provides excellent computing power, and adopt a fan-less design, while featuring low power consumption and rugged properties like being wide-temperature (-40°c~70°c), wide-voltage (9~36V), anti-drop, and shock-proof, which jointly ensure system uptime even in harsh industrial-control environments. In addition, EMS-EHL is built to transmit data through both wireless and wired paths with its 5G/Wi-Fi 6E and two 2.5 GbE Ethernet ports, thereby ensuring mass data transmission without loss and enabling robust decision-making based on big data analytics.
For EMS-EHL, Avalue has been prepared for quick delivery of prototypes in 6-8 weeks with offerings of more than 10 different I/O configurations, including HDMI, USB, LAN, COM, PoE, etc., for different applications. Specifically, for EMS-EHL-PSE, a LAN-specific expandable I/O has been developed, and is particularly useful for control of smart street lights in smart cities. For instance, sensor-based luminance adjustment, night-triggered automatic activation, monitoring of air temperature & air pollution, and IP-camera-enabled intersection monitoring combined with warning to pedestrians are just some of the functions achievable with PSE's IET module. As to EMS-EHL-6COM, its IET module can be of great use in smart agriculture, fishery, and animal husbandry. When working with the IoT technology, it allows efficient control of water quality/waterwheels/pumps, real-time monitoring of cows' physiological status and environmental parameters, provision of suggestions to farmer owner, improvement in overall productivity, as well as innovation and upgrading of agriculture, fishery, and animal husbandry. As another example, EMS-EHL-6USB is designed to be used in enclosures, like vending machines, ticket dispensers, photo booths, and dart machines, with its USB-based IET module providing easy connection to external printers, card readers, touch screens, etc.
Modular design has been well applied to application scenes like automation and smart cities to help reduce costs at critical moments. Particularly, in the post-epidemic era, highly-manual and labor-intensive operations have been transformed into new, automated production modes, leading to growing needs for automated equipment. Going beyond the industrial control sector, automation and smart solutions have been recently introduced into various consumer devices. Avalue's EMS-EHL modular embedded systems save development of new systems from re-inventing the wheel. The easy-to-use, diverse extension interface of Avalue's IET module makes low-cost, high-flexibility scale-out a breeze, providing architecture designers with endless possibilities of extension.
About Avalue Technology
Avalue Technology (TAIEX: 3479-TW) is a professional industrial computer manufacturing company, who is dedicated to developing the x86 and RISC architecture products, including Industrial & Embedded Motherboard, Industrial Computer, Panel PC, System On Module, POS Terminal, Tablet, Software and various IOT ready products. Having expanded, Avalue offers its expertise on PCB/ Assembly/ BIOS version control and all types of after-sales services. An ISO 9001:2015, ISO 13485:2016, ISO 14001:2015 and ISO-45001: 2018 certified company; Avalue offers assurance to customers in every aspect of business. With headquarter located in Taiwan, Avalue has global subsidiaries, including offices in Shanghai, New Jersey, California and Tokyo. In addition, Avalue Technology operates an extensive distribution network to accommodate and serve customers all around the world.
Kontakt vores specialister i dag - klik her
Vi leverer specialtilpassede løsninger til industrielt brug. Hvis du vil høre mere om muligheder og løsninger inden for industrielle produkter, så tag fat i os. Vi har et tæt samarbejde med førende leverandører, og er klar til at hjælpe dig videre med den rette industrielle løsning.