Avalue har introduceret deres High Performance Computing Serie
Optimeret til AI, 5G, IoT, Machine Learning, Edge Computing og meget andet.
29-03-2021 09:30:00

Avalue is Introducing High Performance Computing Series, Optimized for AI, 5G, IoT, Machine Learning, Edge Computing, Medical Precision Computing & Applications Requiring Real-Time and High Reliability
Avalue Technology Inc. (TAIEX: 3479-TW), a global industrial PC solution provider and an associate member of the Intel® Internet of Things Solutions Alliance, introduces the latest server-grade mainboards of dual CPU and single CPU cores (HPM-246UA and HPM-621DE series) and 19-inch 4U rackmount servers (HPS-246U4A and HPS-621D4A). These high-end products are designed to bring enhanced computing and reliability to various vertical markets, such as Artificial Intelligence, Machine Learning, Internet of Things, and 5G Technology in Smart Retail, Smart Manufacture, Smart City, Healthcare and Medical Precision Diagnosis markets.
What is High Performance Computing (HPC)?
High-Performance Computing (HPC) is with the ability to process data and perform complex calculations at high speed. HPC series is the next era of computing products that brings lightning-fast, real-time analysis & extreme reliability performance. And it's optimized for AI, 5G, IoT, ML (machine learning), edge computing, medical precision computing and other applications requiring real-time and faster performance and high reliability.
Why Avalue's HPC Solutions?
Avalue's HPC solutions are armed to drive productivity and expedite time-to-solutions, providing faster and better service to gain a competitive advantage and highlighting the features as below:
Time-to-solutions: Painless upgrades in the existing server rack, cabinet, or inside the system chassis with limited space. With stable operation and well-designed thermal solution in a space-constraint environment. Level 10 products are fully integrated, testing and ready-to-use white box server with CE and FCC certified. This pre-testing and certified will help customers to speed up product development and shorten time-to-market.
IPMI 2.0 Supported: The IPMI (Intelligent Platform Management Interface) is a set of industry-standard specifications for hardware-based subsystems that provide management and monitoring capabilities independently of the host system's CPU firmware, and operating system. Used together with a BMC (Baseboard Management Controller), IPMI allows a system administrator to perform many different monitoring and management tasks remotely without having to be physically located next to and connected to the system – such as power cycling a server, installing BIOS or firmware updates, and monitoring fan speeds and temperatures. Avalue's HPC solutions have built-in onboard BMC/IPMI technology with real-time system monitoring and provide preventive maintenance to minimize system downtime and field service cost.
15-Year CPU Life Cycle Support: Intel® extends the product availability for IOTG roadmap products to 15 years to respond to the IoT market demand. (Based on Intel® IOTG Roadmap)
Avalue's HPC Solutions family products include:
EATX server mainboard: HPM-621DE (available)
ATX server mainboard: HPM-246UA (available), HPM-621UA (coming soon)
19-inch 4U rackmount server: HPS-621D4A (coming soon), HPS-246U4A (coming soon)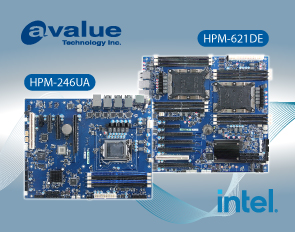 HPM-246UA, ATX Motherboard
HPM-246UA is equipped with Intel® 8/9th Gen. Core™ i7/i5/i3/Pentium®/Celeron®/Xeon® E Processor ATX Motherboard Up to 95W with Intel® C246 Chipset. HPM-246UA is designed for high-performance computing requiring great performance and competitive cost. Also an ideal design for high-level graphic applications. HPM-246UA along with 4 x 288-pin DDR4 2400/2666MHz DIMM socket onboard, supports up to 128GB (ECC memory supported by CPU). HPM-246UA is equipped with a wide array of I/O interface, including 4 x SATA III, 6 x USB3.2 Gen1 (internal), 2 x USB3.2 Gen 2 (external), 7 x RJ-45 (LAN 1 port shared with IPMI 2.0) for cameras and internet connection without compromising performance, and 3 x DP++ ports support triple display. And for the PCIe slots includes 1 x PCIe Gen3 x16 slot, 1 x PCIe Gen2 x8 slot, 1 x PCIe Gen3 x4 slot, 1 x PCIe Gen3 x1 slot and 1 x PCI 3.0 x1 slot for legacy motion control card and M2M communication card.
Find the Product Page on Avalue's website here.
HPM-621DE, EATX server board
HPM-621DE is equipped with onboard Intel® dual 2nd Gen. Xeon® scalable processors EATX server board up to 150W TDP with Intel® C621 Chipset. HPM-621DE is a high-performance computing with better core, more cores within the CPU. HPM-621DE is designed to solve the most complex problems, providing lightning-fast, real-time analysis & extreme reliability solutions. It supports 12 x DDR4 2933/2666/2400/2133 RDIMM/LRDIMM up to 768GB. For PCIe slots, including 4 x PCIe x16 Slots, 2 x PCIe x8 Slots, and 1 x PCI 3.0 Slot for the legacy motion control card and M2M communication card. The rich I/O interface, including 1 x M.2 M-Key PCIe 3.0 x4 NVMe SSD, 2242/ 2260/ 2280 Form Factor, 10 x SATA III Supports Up to 6.0 Gb/s, RAID 0,1,5,10, and 4 x Intel I210AT (LAN1 Port Shared with IPMI 2.0).
Find the Product page on Avalue's website here.
Kontakt vores specialister i dag.
Du kan også se mere om panel pc her.