AAEON's de next-TGU8 Breaks Through Board Space Limitations in Single Board Computing
15-08-2022 13:00:00
AAEON's de next-TGU8 Breaks Through Board Space Limitations in Single Board Computing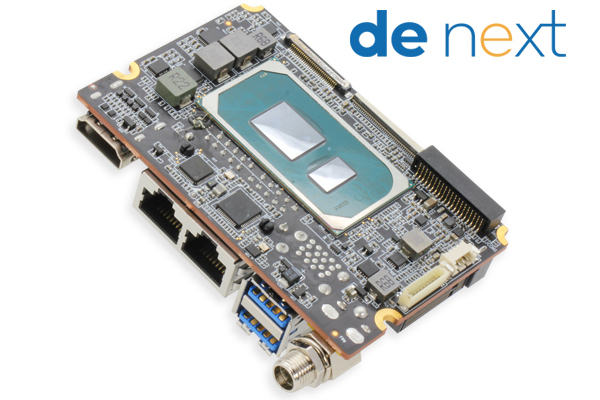 The de next-TGU8 introduces extreme performance and full-function industrial design to an unprecedentedly small board.
(Taipei, Taiwan – September 12, 2022) In a major breakthrough in single board computing, AAEON introduces the de next-TGU8, the smallest board featuring an on-board Intel® Core™ i-level processor ever created, measuring just 3.31" x 2.17" (84mm x 55mm).
Offering up to 4 cores, with 8 threads, the 11th Generation Intel® Core™ i7/i5/i3/Celeron® Processor (formerly Tiger Lake-UP3) provides the de next-TGU8 with the kind of high-performance power never-before-seen in a board so small.
This power ensures users can utilize the potential of the de next-TGU8's 16GB onboard LPDDR4x memory and expandability, for which it has an M.2 2280 M-Key (PCIe x2) to enable AI acceleration, Wi-Fi, and 4G modules. The de next-TGU8 also provides an FPC slot for PCIe x4 Gen 3 with Riser kit, for additional storage or more advanced graphics options to go along with its Intel® UHD Graphics.
Despite being such a small board, the de next-TGU8 is equipped with a sophisticated interface featuring dual RJ45 ethernet ports, two USB 3.2 Gen2, and four USB 2.0 slots, along with a dual display interface via HDMI and eDP ports.
Because of these features, AAEON believes the de next-TGU8 to be the product to usher in the next generation of edge AI applications in drone and robotics technology.
Vil du vide mere om de next-TGU8 board eller andet fra AAEON? Vores erfarne rådgivere er klar til at hjælpe dig godt videre, så tag fat i os. Giv os et kald på telefonen, send en mail eller udfyld vores kontaktformular. Vi rådgiver og finder det rigtige til dig.
Se mere om vores samarbejde med AAEON her.
Se et udvalg af industrielle produkter her.
Vi leverer specialtilpassede løsninger til industrielt brug. Hvis du vil høre mere om muligheder og løsninger inden for industrielle produkter, så tag fat i os. Vi har et tæt samarbejde med førende leverandører, og er klar til at hjælpe dig videre med den rette industrielle løsning.
Kompetencer og ressourcer. Kontakt vores specialister. Industrielle løsninger.