14 tommer hårdfør tablet
Verdens første hårdføre konverterbare tablet - Tablet og laptop i én
23-09-2021 16:00:00
Helt nyt - Forbindelse hvor som helst med 14" rugged konverterbare laptop/tablet fra Winmate
Winmate har lanceret hvad de selv kalder verdens første konverterbare rugged 14" tablet, der nemt kan omdannes fra tablet til laptop funktion. L140TG, som den hedder, lever selvfølgelig op til den velkendte høje kvalitet og hårdføre standard, som er kendt fra Winmate. Det nye produkt giver med de mange muligheder for wireless forbindelse, og en skærm i høj kvalitet, rig mulighed for at arbejde i mere besværlige omgivelser som fx udendørs, ved militær områder eller lignende.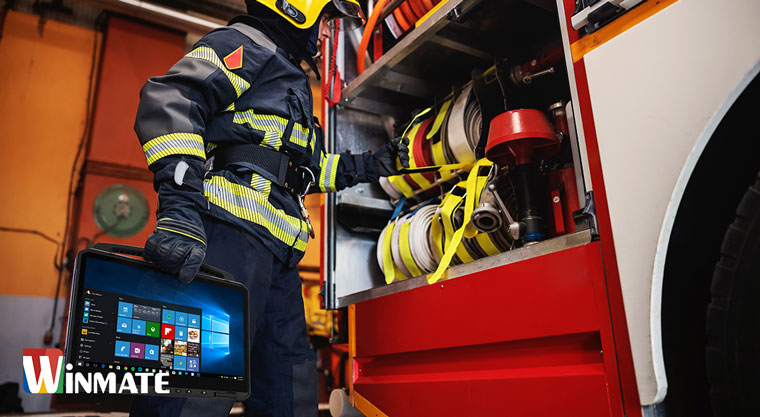 Læs nyheden fra Winmate her på siden og kontakt Sensor ECS ved interesse.
Fremhævede specifikationer
Konverterbar model, der kan bruges som både laptop og tablet
Intel® Core™ Tiger Lake og Windows 10 IoT Enterprise operativ system.
Trådløs forbindelser som Wi-Fi 6, bluetooth, GPS/GLONASS, 4G lite m.m.
14" PCAP touch skærm m. optical bonding og anti-genskin behandling. Læsbar i stærkt lys
2 Mega-Pixel front kamera og 8 Mega-Pixel bagvendt kamera
IP65 og MIL-STD 810H standard, testet for modstandsdygtighed mod støv, fugt, fald, vibrationer, ekstreme temperaturer m.m.
Winmate Presents the World's First
14" Convertible Rugged Laptop L140TG-4
The superior break-proof laptops for the challenging works of public safety and military services.
Winmate, a rugged computing industry leader, announced its new L140TG Rugged Laptop powered with Intel® Core™ Tiger Lake and Windows 10 IoT Enterprise operating system. The L140TG supports comprehensive wireless connectivity options such as Wi-Fi 6, Bluetooth, GPS/ GLONASS, and 4G LTE (optional) to keep workers connected in even the most remote locations. Also, it features a 14-inch daylight readable panel 1920 x 1080 with direct optical bonding, anti-glare treatment, and a user-friendly projective capacitive touch screen. L140TG series offers a new generation of compact and lightweight portability in a robust form factor.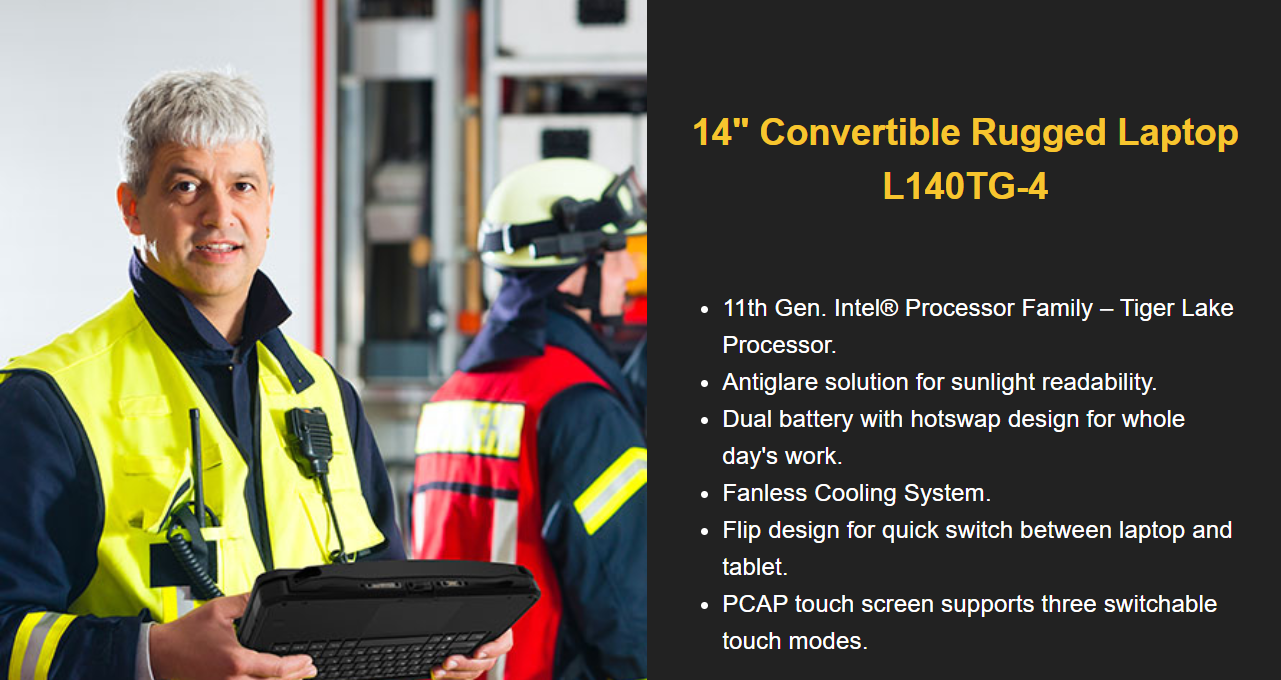 Compliant with rating and MIL-STD-810H for Public Safety and Military Applications
Proper rugged laptops ought to conform with MIL-STD 810H, the durability standards created by the US Department of Defense that pinpoints the performance tests to ensure the products meet the specific requirements for various military-related purposes. Also, an Ingress Protection (IP) rating defines how resistant the computer is when subjected to a dirty/dusty environment, moisture, and even water splash.
The L140TG Series Rugged Laptop is designed to be ready to go wherever your duty takes. With IP65 rating protection and passed the MIL-STD 810H shock, drop, and vibration tests, the L140TG is demonstrated toughness to withstand repeated drops, extreme temperatures, altitudes, humidity, water, and dust exposure. Suitable for public safety and military applications.
Enterprise Mobility Solution
Purpose-built for the fieldworker, the L140TG has a 2 Mega-Pixel front camera and 8 Mega-Pixel rear camera with autofocus and LED light (optional) for data collection and video communications. Complementary with a wide range of optional combined elements, including a built-in fingerprint scanner, RFID, or smart card reader. For maximum functionality, users can also choose from the vast range of the L140TG customized accessories – spare battery and battery charger– which come in handy for field use.
"At Winmate, we see a growing demand for enterprise mobility solutions," says Cathy Hsu, Vice President of Sales and Marketing. "The L140TG is specially created for mobile workforces, combining ruggedness, functionality, and portability to create a reliable yet versatile laptop that matches to various challenges and situations."
Get the job done anytime and anywhere with Winmate L140TG rugged laptop and Windows 10 IoT Enterprise.
Kontakt vores specialister i dag - klik her
Den nye L140TG er klar på markedet. Vi leverer specialtilpassede løsninger til industrielt brug. Hvis du vil høre mere om muligheder og løsninger inden for hårdføre tablet eller andre industrielle produkter, så tag endelig fat i os. Vi har et tæt samarbejde med førende leverandører, og er klar til at hjælpe dig videre med den rette industrielle løsning.