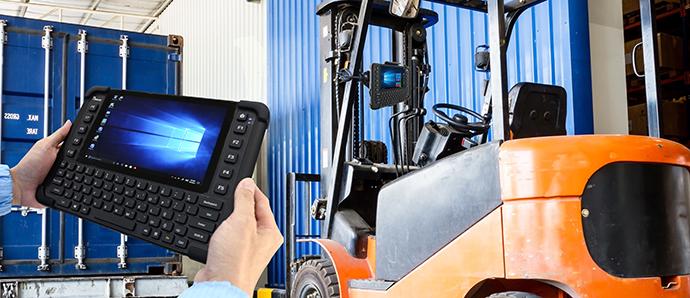 Tips til det rigtige valg af en computer til trucken
Det handler mere om hårdførhed og design - end om her og nu prisen.
01-09-2020 14:10:00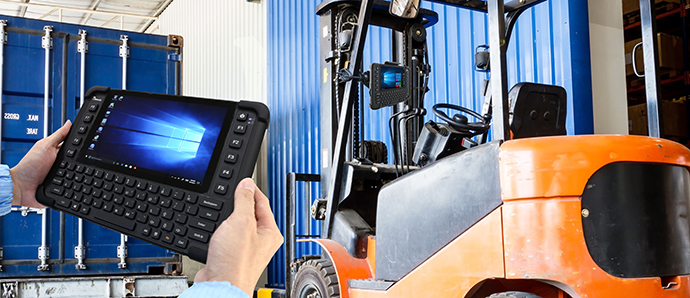 Introduction: Supply Chain and Logistics Automation Trends
Automation is a growing trend that is transforming operations in many industries. Supply chain and logistics are one of those industries that are the most susceptible to changes. The need for 24/7 real-time track and trace solutions from dispatch to delivery forces logistics companies to adopt new technologies and modernize facilities and equipment.
Forklift Automation
It is calculated that forklift automation increase productivity by 25%. To optimize efficiency and flexibility of the warehouse operations modern forklifts are equipped with RFID tags and readers to identify load, sensors to monitor speed and detect load weight. All the information about product location, placement, and order priority displays on a vehicle computer. This computer usually features Wi-Fi or 4G capabilities for real-time communications and data exchange. Technologies simplify warehouse management and speed up warehouse operations.
Choosing the Right Forklift Computer
Here are several key factors to keep in mind when searching for the forklift computer:
Ruggedness - The device must be rugged enough to handle any industrial environment from extreme cold to dry heat, potential drop and strong vibration from the moving vehicle. To withstand these conditions industrial grade computers have high IP rating indicating water and dust resistance, fanless thermal solution and industrial-grade internal components.
Mounting solution - In the warehouse environment, the ability to mount mobile devices and computers to forklifts, trucks, taggers, and inventory pickers, is essential. Vehicle mounted computers are compatible with various mount types including RAM mount. Designed with forklift construction in mind, these computers support drill, no drill and external keyboard installation methods. Mounting solution for forklift must be able to withstand strong vibration and shock.
Ease of service and maintenance - When installing a computer to a forklift it is important to consider repairs and the need of software updates. Vehicle mounted computers with filed-replaceable front panel is one of the solutions to speed up service time. If a screen is broken which happens very often in industrial environment, simply take off the front part and place a new one on a docking station. Modular design saves maintenance time.
Power supply from the forklift - Computers powered from a vehicle are subject to power surge. Forklift computers must have wide range power input, DC-to-DC converters and also power ignition control that delays power on computer after the vehicle is on.
Driver's safety and security – Nothing should distract a forklift operator driving around warehouse facilities. Screen blanking is a function that automatically disables screen while vehicle is moving. Also when the computer left idle the screen will automatically lock itself for security reason.
Wireless connectivity – Vehicle mount computer should have wireless capabilities, such as built-in Bluetooth, Wi-Fi, 4G/ LTE and external antennas to increase the signal strength in remote locations for real-time communications and data transfer with no delay.
Ability to connect multiple peripherals - Barcode scanners, mobile printers, USB drives, external PC and monitor, all of these peripherals need to be connected to forklift computer from time to time. Various input and output interfaces onboard open more possibilities of the usage scenarios of the vehicle computer.
User-friendly interface - Computer should come with responsive touchscreen for the convenience of the operator. Either resistive or projected capacitive deepening on the usage scenario. Resistive is usually more resistant to scratches while projected capacitive offers multitouch capabilities for more responsive applications.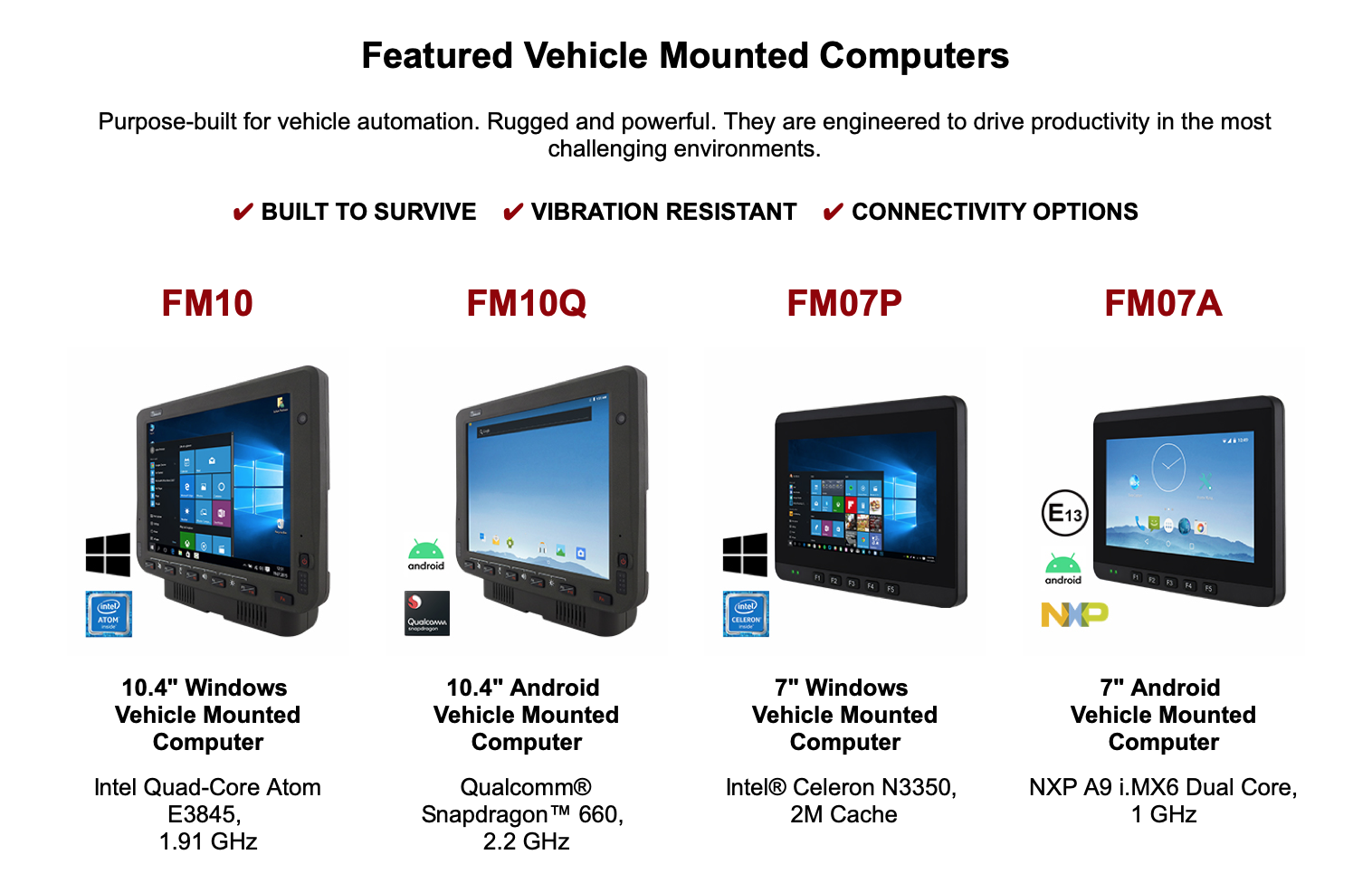 Contact us if you have any questions